Carnegie Resource Center in Everett Provides Needed Support and Resource Services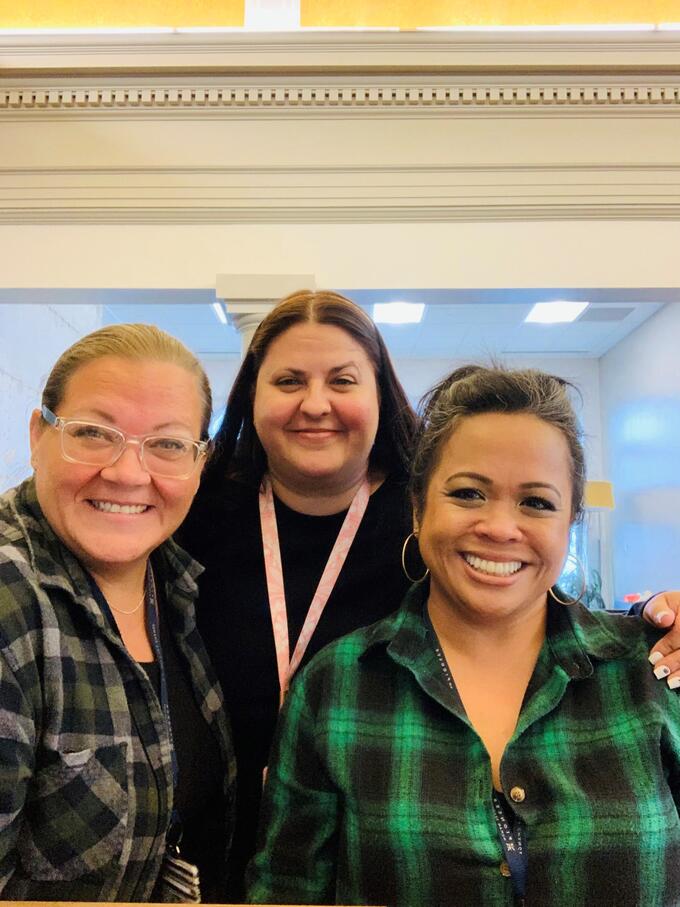 Staff from the Carnegie Resource Center in Everett shared three inspiring stories on the support and resource services that are provided at the center. The Carnegie is a gateway to a multitude of resources and training opportunities related to mental health counseling and substance use disorder treatment, employment services, housing enrollment, veteran programs, health insurance navigation, and public benefit enrollments. All services at the center are coordinated by Pioneer Human Services.

Pictured from Left - Carnegie Staff: Rebecca Nelson, director; Jessica Oliver, case manager; Shantel Harris, social services coordinator
Betty
Betty came into The Carnegie Resource Center needing a place to charge her phone and be connected to various resources and agencies. She was not exactly sure where to start or what specifically she could get help with, so staff stepped in to discuss her needs. Carnegie staff members listened to Betty and made a plan of where to start with her on the resources she needed.
The process began by connecting Betty with DSHS to get food benefits that she desperately needed. She also qualified for an Affordable Connectivity Program (ACP) tablet during one of the Carnegie's ACP tablet events. The tablet provides her with the ability to stay connected to her newfound support system.
Staff was then able to connect her with Social Security Disability Insurance (SSDI) to get additional benefits started. A few weeks later, Betty returned to the Carnegie to update the staff. Jessica Oliver, a Carnegie Resource Center case manager said, "Betty let us know that she was placed in a safe shelter and was getting her medical appointments set up and taken care of for the first time in many years. She also let me know she received her benefits from DSHS and was on her way of getting her SSDI benefits. It was so wonderful to see her again and she thanked us for just being there to listen to her and help her when she had no one else."
Justin
Justin was a homeless individual that was new to the area. He walked into the Carnegie Resource Center in search of assistance for housing, healthcare, employment and general basic needs. Over the course of multiple days, staff was able to connect him to a housing navigator for coordinated entry into affordable housing, a healthcare navigator for coverage enrollment and an employment specialist for assistance with navigating an appropriate occupation. Staff also assisted him with establishing Supplemental Nutrition Assistance Program (SNAP) and cash benefits through DSHS, as well as facilitated his receipt of an ACP tablet, Orca LIFT card and new eyeglasses.
Since then, Justin regularly stops back in the Carnegie to speak with staff and update them on his progress. He is currently staying in a shelter, but his housing situation is pending acceptance into our Foundational Community Supports (FCS) program and with one of Carnegie's on-site housing providers. Shantel Harris, Carnegie's social services coordinator shared, "Justin persistently expresses his gratitude for Carnegie's presence in the community and all our services that are easily accessible. He feels the resources have really made a positive impact on improving his circumstances."
Terry
Terry was struggling with a substance use disorder (SUD) and walked into the Carnegie Resource Center to see if he could get an SUD assessment with one of the on-site agencies. When Terry originally came in, he was easily agitated and at times volatile. However, since his initial SUD assessment, he has successfully completed a treatment program and stabilized his behavior. It has been reported that Terry also always shows up for his follow-up appointments.
Additionally, Terry met with Carnegie's community healthcare navigator, who was able to coordinate his enrollment for coverage. Once Terry was in stable recovery, he expressed an interest in finding employment. Staff connected him with an employment specialist that worked with Terry and helped him secure a position with a union aerospace manufacturing company.
Rebecca Nelson, Carnegie Resource Center's director stated, "Each and every time Terry comes to the Carnegie now, we are greeted with a warm smile, easy conversation and he is always in great spirits. While he conveyed his sincere thanks to staff on numerous occasions in the past, his transformation from when he first arrived at the Carnegie – to now – speaks for itself. We are so happy for his recovery and success."