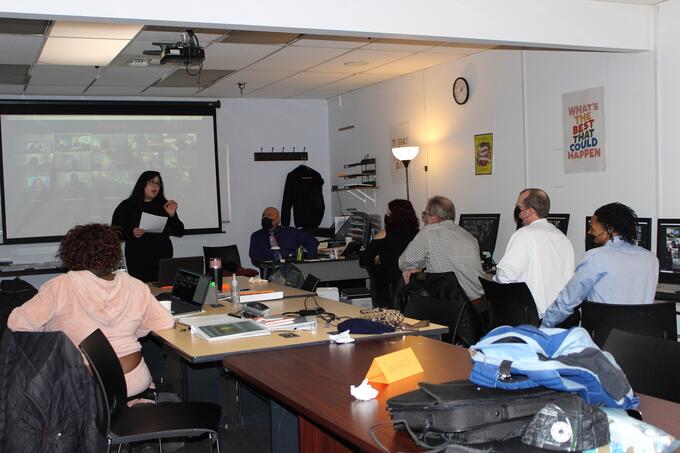 Please note: The Seattle and Spokane Roadmap to Success job-readiness training programs are accepting applications for their in-person programs (virtual participation is also accepted). Please scroll down to fill out an application or to contact us at one of the numbers listed.
Pioneer's job-readiness training program, Roadmap to Success, is a three-week course that students attend five days a week. Individuals with a conviction history that are trying to successfully transition back into their communities in the state of Washington can be referred by their case manager, therapist, corrections officer or self-refer for the application process.
If you are interested in the program, please complete and submit the online application.

Once accepted into the Roadmap to Success training program, individuals learn the needed skills to find and retain employment. The course focuses on overcoming barriers to employment through cognitive thinking transformation, soft-skills development, professional communication, conflict resolution, time management, job search techniques, targeted resume building, interviewing techniques, handling different management styles and computer skills.
After graduation, students work with employment specialists to find full-time employment with one of the many employers, or they are referred to vocational or pre-apprenticeship/apprenticeship programs offered through partner agencies.
The Roadmap to Success training programs are currently being offered in Seattle and Spokane (Everett is temporarily closed). Also, Roadmap to Success training workshop series are provided in federal residential reentry centers that Pioneer operates, and in many of our transitional housing and residential treatment programs across the state. Our focus is to bring the training to our clients in need.
Watch a video of students in our Roadmap to Success job-readiness training program discuss how the program is helping them move forward in their lives.
The Roadmap to Success training curriculum targets in on soft skills development and job readiness, and focuses on each of our student's strengths to prepare them for employment. Topics that are covered in the course include:
Job-search readiness focuses on the skills needed to look for work, including developing job search strategies, navigating questions about their justice involvement, writing targeted cover letters and effective resumes, and learning to interview and share information in mock interview sessions.
Soft-skills development focuses on how to make good decisions and how to be a good employee. Skill development includes dealing with authority, time management, professional communication and conflict resolution.
To support long-term stability and success, our training program includes skill-building exercises to help trainees learn to make better decisions, both within their personal lives and at work, and to maintain a clean and sober lifestyle.
In addition, we offer workshops in many of our housing, treatment and residential reentry programs across the state where individuals can participate in one - three hour training classes that cover soft skills management, cover letter and resume writing, and mock interview practices.
Testimonials from graduates
"The Roadmap to Success training program gave me the opportunity to succeed, and the confidence to believe in myself."
"This program made me realize that opportunities are made and not given."
"Thank you for this opportunity for change. This program changed my life!"
"Roadmap to Success has given me the vision to have a career. I am looking forward to working as a result of this class."
"I've learned and taken the positive experience of the program and the individuals in it, and I will now apply those positive experiences to my life."
Who is eligible
All applicants for Pioneer's Roadmap to Success training program can either be referred by a community corrections officer or case manager, or individuals can self-refer. Please complete and submit the online application. All Pioneer contact information is on the form.
Priority is given to people currently in a work release program, or in a Pioneer treatment or housing program. To be eligible for the training program, applicants must:
Have a conviction history (can also have a substance use disorder history)
Be interested in finding employment and physically able to work
Pass a urinalysis (UA)
Be willing and able to comply with classroom policy and procedures
Contact
For more information, please send an email to [email protected], or contact the Seattle or Spokane office at the following:
Pioneer - Roadmap to Success - SEATTLE
Located at: Pioneer Industries
7000 Highland Park Way SW
Seattle, WA 98106
Phone: 206-768-7333 - individuals interested in applying for the class
Phone: 425-626-1849 - employers interested in hiring our graduates
Pioneer - Roadmap to Success - SPOKANE
Located at: Spokane Resource Center
130 S. Arthur Street, 2nd Fl
Spokane, WA 99202
Phone: 509-701-8105
Pioneer Human Services is an equal opportunity employer and service provider. Auxiliary aids and services are available upon request to persons with disabilities.