Pioneer Industries Quality Policy:
Pioneer Industries is customer-focused and quality-driven through continuous improvement. We are committed to meeting or exceeding all customer, and regulatory requirements, as well as operating to the highest safety and ethical standards.
Pioneer Industries maintains certifications and accreditations in the aerospace and commercial manufacturing industries to include:
ISO 9001:2015 and AS9100D certification
D6-51991 – approved by Boeing for Digital Product Definition
PLEASE READ THE FOLLOWING PIONEER INDUSTRIES' DOCUMENTS: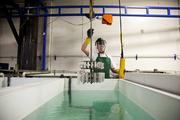 Additionally, Pioneer Industries is NADCAP accredited for chemical processing. National Aerospace & Defense Contractors Accreditation (NADCAP) provides accreditation for special processes in the aerospace and defense industry. Pioneer Industries has accreditation from NADCAP for chemical processing (CP). The Chemical Processing Task Group conducts audits to demonstrate compliance to SAE AC7108. NADCAP process assessment and certification ensures that all requirements are identified, documented and recorded prior to starting the order. Furthermore it assures that critical aerospace part processing, inspection and testing are conducted per documented procedures, and essential data recorded, stored and furnished per specification and PO without exception. This is done by performing rigorous and in-depth job audits following parts from receiving through final inspection. Pioneer Industries is NADCAP accredited for the following special processes:
BAC 5632 – Boric Acid – Sulfuric Acid Anodizing Class 1
BAC 5632 – Boric Acid – Sulfuric Acid Anodizing Class 5
MIL-C-5541 – Chemical Conversion Coating on Aluminum (Immersion App only) (Approval Not Required for International Space Station (ISS) Houston Only)
MIL-DTL-5541 – Chemical Conversion Coatings on Aluminum and Aluminum Alloys (Immersion Application Only)
BAC 5719 – Chemical Conversion Coatings for Aluminum (Immersion Application Only)
BAC 5793 – Application of corrosion resistant finish for integral fuel tanks
Read Pioneer Industries' Scope of Accreditation for NADCAP HERE
See Pioneer's NADCAP Certificate HERE.
Pioneer Industries maintains the ISO 14001 DNVGL certificate that is the most recognized international standard for environmental management systems. An ISO 14001 certificate proves that Pioneer's environmental management system has been measured against a best practice standard and found compliant. Issued by a third party certification body/registrar, the certificate lets customers know they can trust that Pioneer is actively minimizing the environmental impacts of our company's processes, products, and services.
The ISO 14001 is designed to be compatible and harmonizes with other recognized management system standards, including ISO 9001. The certificate provides a tool for environmental performance improvement and the means to effectively monitor and measure environmental performance. The certificate standard requires organizations to identify all environmental impacts and associated aspects. Furthermore to define environmental objectives and implement actions for improved performance to improve processes in prioritized areas with significant aspects. The ISO 14001 also lays forth a best practice for proactive management of the environmental impact of the organization. With the certified environmental management system, Pioneer Industries goes beyond mere compliance, we focus on continual improvement.
MANAGEMENT SYSTEM CERTIFICATE - HERE
Through a strategy of continuous improvement and teamwork, and in accordance with the requirements set forth by the international standards organizations, Perry Johnson Registrars, Inc. is dedicated to differentiating itself as an effective provider of certification services, as well as ensuring that they create value for their customers, industry stakeholders, and employees. Pioneer Industries was awarded the aerospace industry specific quality management certification.
Pioneer Industries maintains the AS 9100D certificate that provides evidence to customers, suppliers, employees, and our community of our commitment to producing a quality product (service) and providing customer satisfaction. The AS 9100D certification recognizes organizations that can link business objectives with operating effectiveness. Pioneer achieved Management System certification to AS 9100D and has demonstrated effective implementation of documentation and records management, top management's commitment to customers, establishment of clear policy, good planning and implementation, good resource management, efficient process control, measurement and analysis.