Job-Readiness Training Program Teaches Hope and Provides a Second Chance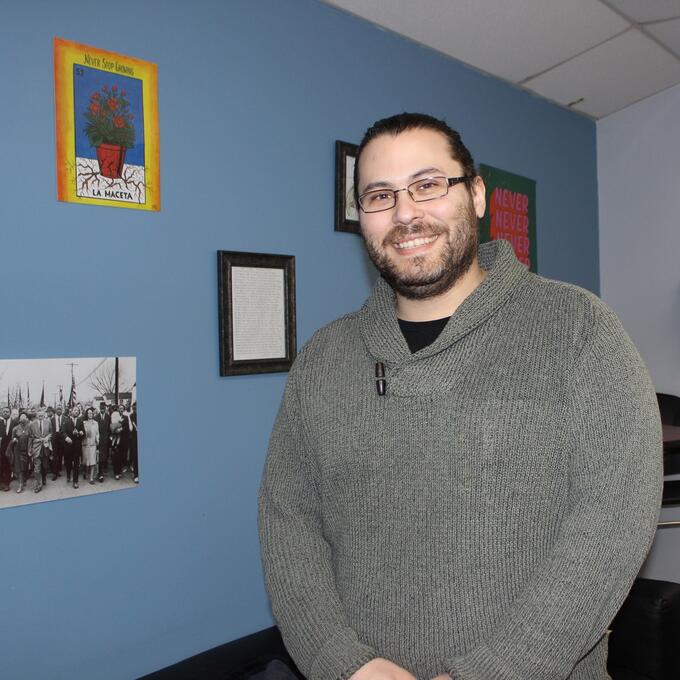 Abrahm works as a vocational case manager for current students and past graduates of our Roadmap to Success (RTS) job-readiness training program. He has come full-circle, as he is also a graduate of RTS. We are pleased to share his story with you.

Roadmap to Success
The RTS program provides job-readiness training to help people successfully transition back into the community after incarceration (the applicant can also have substance use disorder history). To make sure we provide the most appropriate services, every student completes a comprehensive assessment to determine their skills, interests and aptitudes. Roadmap focuses on soft skills training including professional communication and conflict resolution, time management, handling different management styles, and computer skills. Students learn how to gain and retain employment in today's workforce.
Abrahm's Youth
At four years old, Abrahm was taken by his father to live in Chile. "I was essentially kidnapped but do not really remember the details. My mother did not know what happened and eventually learned that it was my father who took me away, but she was unable to find me. In Chile, my father and I moved many times around the country and I was unfortunately subjected to physical and mental abuse growing up," Abrahm stated.

He continued, "I tried to focus on my studies when I was young and I ended up going to college, graduating with a Bachelors in translation and interpretation for Spanish and English. I moved back to America in my early twenties, but I never dealt with the trauma that the abuse caused me. I tried to bury it, but it led to negative thoughts about myself and feelings that pushed me down the path to criminal behavior."

Incarceration and Reentry
Abrahm spent four and a half years in federal prison. He felt that he had hit rock bottom and wanted help while he was incarcerated. He applied for the Residential Drug Abuse Program (RDAP) in prison and was accepted. RDAP treats more than just drug addiction and is the Bureau's most intensive treatment program. Cognitive behavioral therapy (CBT) is used in a modified therapeutic community model where incarcerated individuals experience living in a pro-social community. The participants in RDAP live in a prison unit separate from general population and participate in half-day programming and half-day work, school or vocational activities. RDAP is typically nine months in duration.

"I really engaged in counseling sessions in the RDAP program and learned to face the abuse I experienced as a youth. In order to heal your past, you need to bring it all up and see the progression of your behavior," Abrahm shared.

Introduction to Pioneer Human Services
At the end of Abrahm's sentence that he was serving, he was released to the Pioneer Fellowship House (PFH) residential reentry center where he began his transition back into the community. "I started to apply for various jobs but I was continually rejected. I felt like I was never going to get hired by any employer," Abrahm stated. He continued, "Trinetta Thompkins is the Employment Specialist at PFH and she recommended that I apply for Pioneer's Roadmap to Success job-readiness training program. I finally decided to give it a shot because I was not getting hired and was facing barriers that I could not navigate."

Roadmap to Success and Employment
Abrahm engaged in the Roadmap program and learned many tools to assist him in his job search. While in the class, Abrahm also found that he could be of services to the other students in the class as he had gone to college and had computer and writing skills. By the end of the class, Abrahm was approached by the Roadmap employment specialist and asked if he would be interested in working for Pioneer. "I graduated from Roadmap and applied for the program's administrative assistant position. It was very exciting for me when I was hired. Finally, an employer believed in my skills and was giving me a chance," said Abrahm.

In his new position, Abrahm managed the phones, checked reports, entered data for applicants, ordered supplies for class and helped students with their needs. His responsibilities grew as he worked in the position for about three years.

When COVID-19 hit, the in-person class had to be shut down. All future classes were given through Zoom so staff worked at home. Abrahm's administrative assistant position was now not needed so he was temporarily laid off. Abrahm said, "I was only off for a month and I got a call from Pioneer asking me if I wanted to work virtually as a vocational case manager with the students. I said, 'YES' and immediately went into training to learn how to enter information for the Level of Service/Case Management Inventory (LSCMI) form, and I took courses in motivational interviewing and earned a peer counseling certificate."

Abrahm initially faced many challenges working with students over the phone during COVID. He worked through the challenges and now that the class is back in-person, he is adjusting again to face-to-face interaction with students. He is building up a skillset of human interaction techniques after being isolated because of COVID. "I have found it to be so much easier to make connection with students when you are in-person. I feel like we are all re-learning communications skills now that we are back in the actual classroom. You miss a lot when you are only communicating over the phone," Abrahm stated.

Living and Giving Back in the Community
Abrahm feels lucky, as he was able to live with an aunt after his release from prison. However, after a while, he realized they were paying a lot in rent and he shared his idea of purchasing a home. They joined their incomes together and purchased a home. He feels they made a great investment for the future.

Recently, Pioneer hired on a lead case manager that will work with Abrahm and mentor him now that RTS classes are in full swing and in-person. He is looking forward to learning more on the job and building his career as a case manager. "Pioneer was able to give me 'Hope.' They helped to completely change the view I had of myself in a positive way. I feel like I was finally heard – that people were listening to me." Abrahm added, "Now, I am in the position to listen to others and give back. In my studies as a translator, I learned to listen for what an individual means – not just what they say. Sometimes individuals do not have the vocabulary to express their needs or still have the prison mentality of, 'Don't ask.' I am very grateful to now be able to use my skills to encourage others to speak, provide hope and assist students with a chance for change," said Abrahm.