There is a lot of incorrect information that is shared pertaining to the rights and benefits of incarcerated and formerly incarcerated individuals. Below, we wanted to address the most common "Myths" we hear and give the correct "Facts" to help individuals navigate their way towards a successful reentry.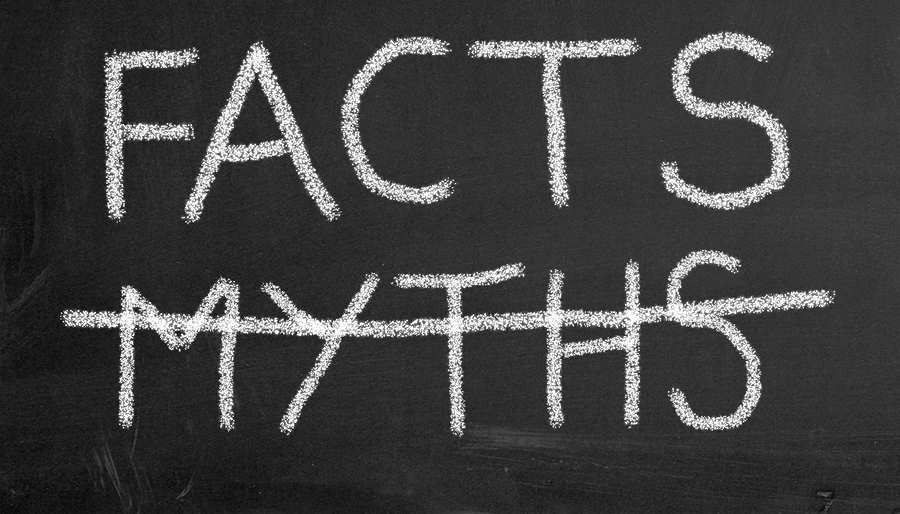 MYTH
An employer can require that an individual disclose their criminal history when applying for employment.
FACT
Many cities have included 'Ban the Box' in their initiatives and no longer allow job applications to include the question that asks if job applicants have a criminal record or a former felony. In Washington state, the law limits criminal history questions on job applications and criminal background checks until after an employer conducts an initial screening. In addition, employers must have a legitimate business reason to deny a job based on criminal history, and must allow an applicant to explain or correct criminal history information. MORE
MYTH
Landlords can require criminal background checks for housing.
FACT
Landlords can require a background check, but national guidance states that landlords must show a legitimate non-discriminatory interest when excluding an individual from housing.
The Seattle City Council passed legislation that does not allow landlords to use language in advertisements excluding people with criminal records, and requires landlords to not deny housing based on arrests or convictions. Landlords will need a legitimate business reason to deny, evict, or take adverse action against an applicant or on an adult's status on the Washington State Sex Offender Registry. MORE
MYTH
People with criminal histories cannot apply for student financial aid.
FACT
You can apply, with a few exceptions: You can't apply if you have a federal or state drug conviction and the crime was committed while you receiving federal student aid. If your eligibility for federal student aid has been suspended due to a drug conviction, you can regain eligibility by successfully completing an approved drug rehabilitation program or by passing two unannounced drug tests administered by an approved drug rehabilitation program. You should apply through the Federal Student Aid (FAFSA). MORE
MYTH
Formerly incarcerated individuals cannot vote.
FACT
If you were convicted of a felony in a Washington state adult court, your right to vote is automatically restored as soon as you are no longer serving a sentence of total confinement under the authority of the Department of Corrections (DOC). This means that once you have completed any required prison sentence, your right to vote has been restored upon release from prison and you will be eligible to register immediately at that time if you are a Washington resident and U.S. citizen, and at least 18 years old by election day. You don't need to completely pay off, but need to be complying with, all of your Legal Financial Obligation (LFO) terms.
If convicted of a felony in another state or in federal court, your right is restored automatically as long as you are not currently incarcerated for that felony.
You will also need to REGISTER TO VOTE in Washington HERE.
MYTH
Juvenile criminal records are public.
FACT
In Washington State, juvenile court records are available and open to the general public until sealed. Washington Courts hold regular hearings to seal records of minors once they turn 18 and have completed their sentence, unless the offense is one of the "most serious offenses" such as a sex offense, or felony drug offense or there is a compelling reason not to seal. Courts immediately seal records upon acquittal or dismissal of charges. MORE
MYTH
You lose Medicaid coverage when incarcerated and can only reapply once you are released.
FACT
Under a newly revised Washington State law, healthcare coverage is suspended, and once an individual is released from custody, full scope health coverage will be automatically reinstated. MORE
MYTH
You can't get your child support order reduced while incarcerated or when released.
FACT
Washington State Division Child Support operates Alternative Solutions, and it can assist parents with lowering child support payments and reducing state-owed debt. It can also help parents with finding a job, training, housing, food, medical care, legal resources and getting a suspended driver's license back. You can also contact the WSDC directly. MORE
MYTH
You lose parental rights when incarcerated and cannot get your children back.
FACT
You don't automatically lose your parental rights while incarcerated, but parents can lose parental rights if there was a termination court proceeding (parents must be notified) while you were incarcerated.
You can get a copy of that proceeding from the courthouse in the county where the proceeding took place. A call to 211 can help you get a referral to understand the proceeding. MORE
MYTH
Individuals convicted of a drug felony can never receive Supplemental Assistance Nutritional Program (SNAP) benefits.
FACT
That is false - Washington State has eliminated the SNAP ban on individuals with a former felony. MORE
MYTH
Veterans cannot request to have their VA benefits resumed until they are officially released from incarceration.
FACT
Veterans may inform the VA to have their benefits resumed within 30 days or less of their anticipated release date based on an official prison source showing release date. MORE
MYTH
Legal Financial Obligations (LFO's) are not negotiable.
FACT
You must pay mandatory LFO's including fees for restitution, victim's penalty assessment, DNA fee and criminal filing fee. Other LFO's are discretionary and you may ask the judge to waive or reduce them, BUT, you need to demonstrate that you are low income. MORE

MYTH
People with a criminal record can't get a passport or leave the country.
FACT
If you are on probation or parole, then you will most likely not be allowed to leave the country without prior approval. There might also be issues if you have back child support. Otherwise, you should be able to get a passport. However certain countries, (such as England and Canada) have regulations about people with prior felonies or DUI's entering their country. You should check with each individual country on their restrictions. MORE
MYTH
Not much can be done about an outstanding warrant.
FACT
Sometimes warrants can be quashed or you can reset the hearing date. You can ask your public defender to work with the prosecutor in the jurisdiction. You can also find your dockets online or call the clerk's office to get them, and then send a letter with your request and include the dockets. Some people have also had success by sending a letter directly to the judge. MORE
Pioneer wants to hear from you about your experiences with these issues. Please contact us at

[email protected]

.