Willisha Creates Positive Change in Her Life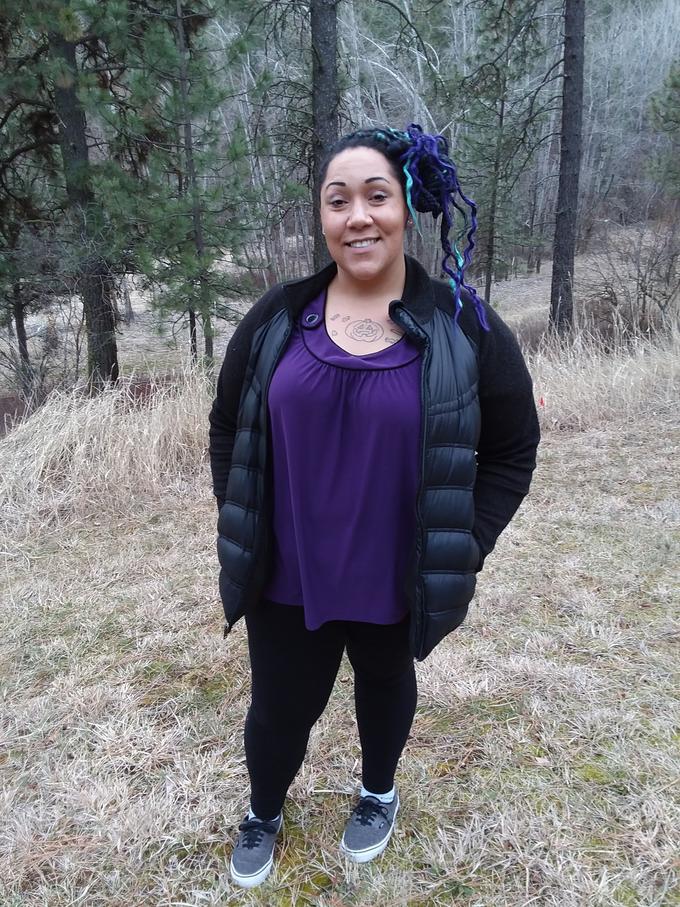 Pioneer Counseling - Emerson Clinic currently provides intensive outpatient services to individuals who are in the pre-conviction Spokane County Therapeutic Drug Court program, or on federal probation. Clients that attend the program have a felony linked to substance use and many have mental health conditions.
The clinic provides assessments and intensive outpatient treatment to approximately 65 patients who are on federal probation. In addition, the program provides urine screening for over 100 patients who are on federal probation. The curriculum used for U.S. Probation clients is Seeking Safety and Thinking for Change.
Willisha was referred to the U.S. Probation program at Emerson Clinic after serving time in federal prison. She shared her story with us.
----------------------------------------------------------------------------------------
"As children, we are never in control of the hands we are dealt…my story starts with being born into a family of addiction and violence. My mother did the best she could and my father tried in his own way, but ignorance to the situation led us away from the path of having anything close to a healthy family life."
"Like other kids in my area, I started smoking cigarettes and weed at 12 when I was reaching puberty. However, my addiction started when I began using drugs with my mother. I used drugs with my mother until I was old enough to use on my own. Over time, this progressed into doing meth and getting addicted to heroin at age 17. Drugs make you desperate and I committed many crimes to support my habit."
"I never experienced stability or a feeling of security going from trap house to trap house and into motels when I was using drugs. As my addiction and drug manufacturing habit grew, I ended up getting a federal charge in 2013 and served five years for first-degree arson. When I was released, I was sent to the Spokane Residential Reentry Center that Pioneer operates. From there I was referred into Emerson Clinic's federal probation program."
"There I came to know what a urine analysis (UA) test line was and I started my counseling and treatment classes. I really got into the program so while I was in treatment, I not only was able to stay clean and learn new skills, but I enrolled in school and got a start to an education to help lead me on a path to a career," said Willisha.
Amelia Weaks works for Emerson Clinic as the U.S. Probation Office substance use disorder professional lead. Amelia shared, "Willisha was referred to Emerson Clinic by U.S. Probation upon release from federal prison. I was very fortunate to be able to get to know Willisha and have the opportunity to be her counselor. She participated in individual and group therapy, and engaged in her court sessions. She is a very intelligent and talented young woman with high potential, perseverance and determination."
Amelia added, "While in treatment, Willisha demonstrated her leadership skills among her peers by sharing her recovery insight and wisdom, as well as offering constructive feedback in a positive manner. Once Willisha's mind was set to achieving success in her recovery efforts, there was no stopping her. During her treatment, she completed Pioneer's Roadmap to Success job-readiness training program that helped her with communication skills, building her resume and taught her job-readiness skills, as well as set her up to be a peer mentor."
Willisha said, "Recently, I completed my treatment program with Pioneer Human Services and I am feeling great. I also completed my training and I now am a certified peer counselor (CPC) and a recovery specialist working at a nonprofit called Peer Spokane. I was able to realize in my treatment program at Emerson Clinic that it is my choice to change. Even though I can't control a lot in my life, I can control myself and am responsible for my actions. I am a goal-oriented person and I make moves everyday towards my future. I haven't used heroin since 2013 or meth since 2018. Recovery is a process of not only finding yourself, but also figuring out what and who you want to be. The life I have now is a life worth living and it has purpose. I am an example of positive change!"