U.S. Bank Invests $50,000 in Pioneer Human Services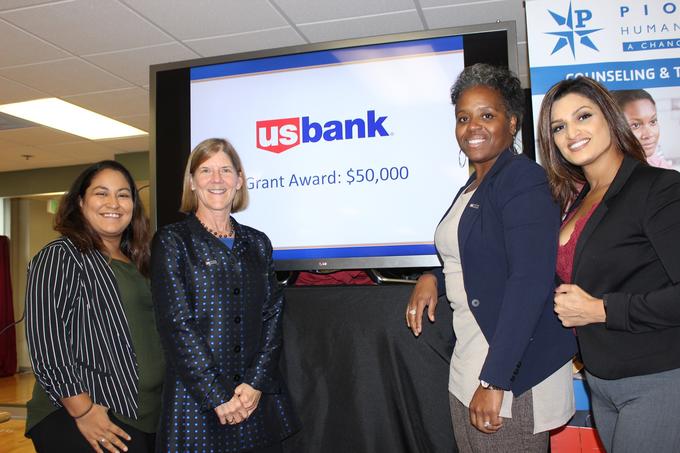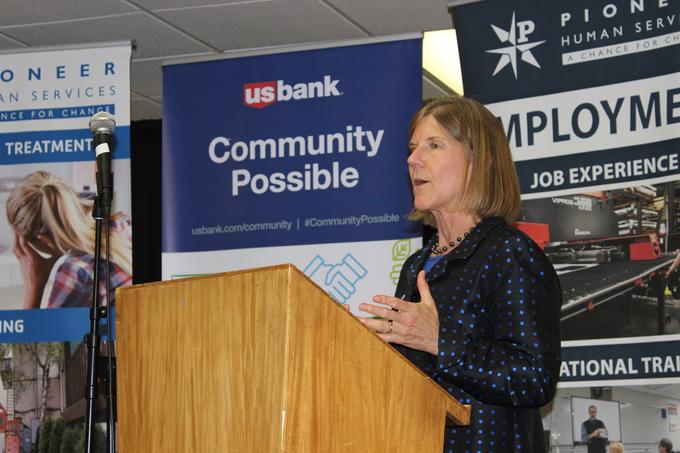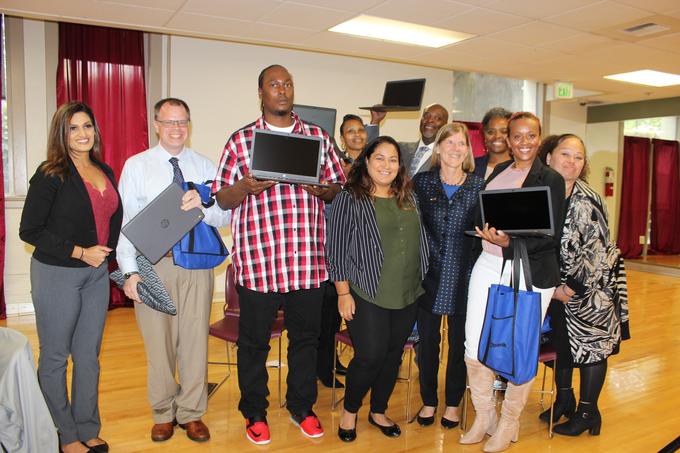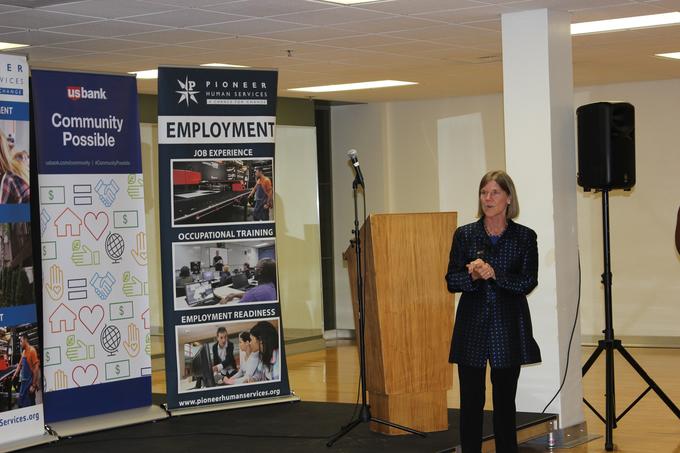 Part of New $1 Million Annual Fund Supporting Workforce Development, Arts and Culture and Affordable Housing
Seattle, Wash. (October 1, 2019) U.S. Bank recently gifted Pioneer Human Services a $50,000 Community Possible grant to support more than 100 individuals participating in the organization's Roadmap to Success job-readiness training program. The grant is part of U.S. Bank's new annual $1 million fund focused on organizations driving economic development across the country in the areas of workforce preparation, affordable housing and arts and culture.
Pioneer CEO Karen Lee stated, "Our students are working hard to rebuild their lives. Many are starting from scratch and we rely on community support to help provide the range of supports needed to boost their opportunity for success. We truly appreciate U.S. Bank's commitment to investing in workforce development and for making a difference in the lives of our students."
Pioneer Human Services will use the funds to support individuals in the Roadmap to Success program that serves low-to-moderate income adults that were previously incarcerated and are seeking healthy and productive lives through employment.
Roadmap to Success student Leigha received safety glasses, work boots and a hard hat from the U.S. Bank grant and shared, "These supplies boost my confidence, keep me safe, and make me ready to start work right away. Thanks!"
Another student, Brad received a one-month ORCA mass-transit low-fare pass from the U.S. Bank funds and said, "I finally have a job. I also have probation, treatment appointments, sober support groups, and errands. This ORCA card helps me to get everywhere I need to go in this stage of my life."
Through the new annual Market Impact Fund, U.S. Bank invests $50,000 grants to 20 nonprofit organizations across the country. The new Fund is in addition to U.S. Bank's Community Possible giving platform focused on grant cycles in the areas of Work, Home and Play.
"Establishing this new Fund allows us to further focus our efforts on supporting those organizations like Pioneer Human Services, which are working to close historical economic gaps in the areas of greatest need," said Betsy Cadwallader, market president for U.S. Bank Seattle. "Our communities are stronger when people have jobs, stable housing and when their communities are connected through the arts, recreation and play. Our goal is to give larger grants to create meaningful local impact working with and through market leaders and nonprofit organizations who know their communities the best."
Learn more about our social responsibility work here: www.usbank.com/csr2018 or www.usbank.com/community.
About Pioneer Human Services
Pioneer is a social enterprise that provides justice-involved individuals an array of treatment, housing and employment services to help them transition into the community and build healthy, productive lives. The organization started as a single halfway house in Seattle in 1963 and now provides services in over 50 locations across Washington state.
As a social enterprise, Pioneer also operates a diverse line of businesses to provide on-the-job training and work experience, while generating revenue to help fund its social mission. In 2018, 67 percent of Pioneer's enterprise workforce had a conviction criminal history or was in recovery. Learn more at: www.PioneerHumanServices.org.
Contact:
Nanette Sorich, communications manager, Pioneer Human Services
206-766-7034; [email protected]
About U.S. Bank
U.S. Bancorp, with 74,000 employees and $482 billion in assets as of June 30, 2019, is the parent company of U.S. Bank, the fifth-largest commercial bank in the United States. The Minneapolis-based bank blends its relationship teams, branches and ATM network with mobile and online tools that allow customers to bank how, when and where they prefer. U.S. Bank is committed to serving its millions of retail, business, wealth management, payment, commercial and corporate, and investment services customers across the country and around the world as a trusted financial partner, a commitment recognized by the Ethisphere Institute naming the bank a 2019 World's Most Ethical Company. Visit U.S. Bank at www.usbank.com or follow on social media to stay up to date with company news.
Contact:
Susan Beatty, U.S. Bank
612-303-9229; [email protected]
###