Skagit Community Detox Staff Go Above and Beyond to Secure Treatment for Client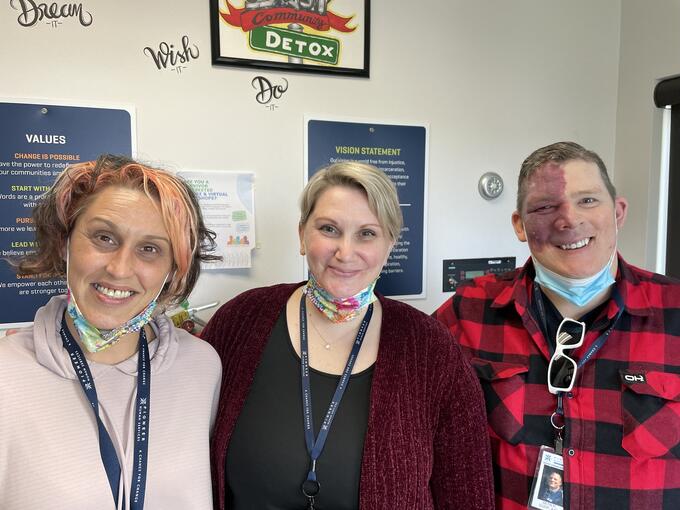 We are proud to share a story on our amazing staff that always go above and beyond the call of duty for the clients they serve. Nicole Ervin, director of the Skagit Community Detox program in Burlington (Pictured Center), gave a shout out to her team for going the extra mile to ensure a client made it into residential treatment that was secured for him after detox.
The Skagit Community Detox center is a 16-bed sub-acute detox program. The North Sound center serves residents in need of detox and provides services for residents who are experiencing a crisis related to their substance use disorders. Staff work 24/7 with clients to help them through detox and transition them into a treatment program for their road to recovery.
Tribal members in Washington state are fully covered by the tribes for treatment, but sometimes tribal members face barriers when trying to access services from providers. Pioneer works closely to assist tribal members overcome and navigate the barriers. Michael was a tribal member that arrived at our Skagit Community Detox center. Staff worked diligently with Michael to assist him in his detox and talked with him about transitioning into a residential treatment program. This was not an easy task, but in the end Michael agreed to go into residential treatment and was confirmed at a treatment program.
Nicole Ervin shared, "Tribal members can face barriers to being admitted into treatment and to be honest, our team can be relentless when someone really wants help. We were able to do an in-house assessment for this young man, who prior to this was chronically homeless and using fentanyl daily, and provide him with appropriate treatment options."
The problem was Michael's transportation options to the treatment program were not sufficient. He had a deadline to check in and other rules to follow, and it was going to be impossible for Michael to make it to the residential treatment for his check-in time. He was planning to take public transportation to the Amtrak station in Seattle so he could then catch a train to make it to his treatment program. However, after staff checked, none of the public transportation methods were going to meet the Amtrak train schedule in Seattle.
Seth Peebles, clinical supervisor (Pictured Right); and Simone Tanke, clinician (Pictured Left); learned about Michael's transportation issue. They decided to come in, when they were not scheduled to work that day, to drive Michael to the Seattle Amtrak station from Burlington. Seth and Simone wanted to make sure that Michael made that train as he had agreed to residential treatment and was confirmed for the program. That is dedication!
Ervin added, "Simone Tanke also worked tirelessly with the tribe and treatment center to coordinate everything in a short amount of time, since the window of opportunity that we have to get an individual with a severe substance use disorder into treatment is often just a few short days. This morning they had to get him to train station by 9:50 am in downtown Seattle which is no small feat. They reported back to me they got there just in time and Michael was off to treatment successfully."
We are all so happy for Michael and grateful for our caring staff. Ervin stated, "This would not have happened without our team here at Skagit Community Detox going above and beyond the call of duty for their clients. I am so proud of our employees who never give up on a client and will always go out of their way to make sure the client's road to recovery is not blocked."
Wednesday, February 9, 2022