MOD Pizza Hosts Fundraiser for Pioneer Human Services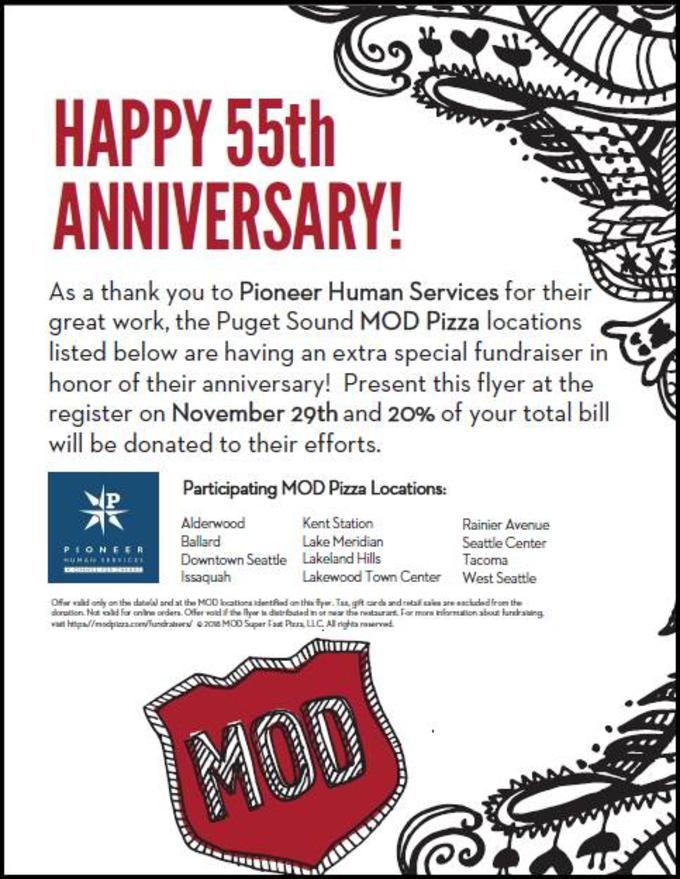 In celebration of Pioneer's 55th anniversary, MOD Pizza has generously offered to have a fundraiser to thank us for our work!
On November 29, 2018 please visit any of the following MOD Pizza Stores in the Puget Sound region and 20% of your total bill will be donated back to Pioneer – very generous! Share this offer with your family, friends and neighbors to help us get the word out.
All you need to do is print and bring the flyer below to a participating MOD Pizza, or show a digital copy (see below) on your phone, when paying for your order. We have the flyer displayed on our Facebook, Twitter and LinkedIn sites also for easy access.
Participating MOD Pizza Locations in the Puget Sound Region:
Alderwood, Lakeland Hills
Ballard, Lakewood Town Center
Downtown Seattle, Rainier Avenue
Issaquah, Seattle Center
Kent Station, Tacoma
Lake Meridian, West Seattle
What an easy and delicious way to donate to Pioneer for our 55th anniversary!
Learn more about MOD Pizza and find the closest participating location's address HERE.
Monday, November 26, 2018