Father and Son Reunite at Pioneer Housing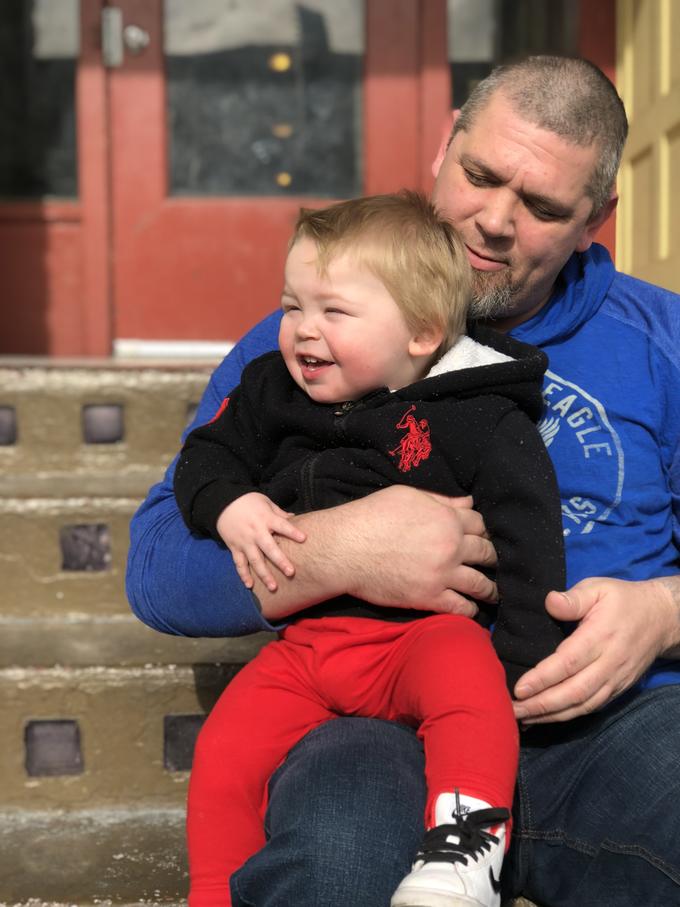 "Sometimes working with individuals who are struggling with substance abuse issues, and trying to pull their life together after incarceration, can be a real uphill challenge. Gary pushed himself to conquer that hill as he wanted to unite with his son and finally be the father that was inside of him," said Israel Perez, former housing administrative coordinator, Pioneer Tacoma Housing.
Gary is now a nationally registered recovery coach who enjoys watching football, riding motorcycles, and strolling through downtown Tacoma's vibrant neighborhood with his happy and active 18 month old son, Zaine. What others may describe as a normal life, Gary will never take anything for granted. "I spent 30 years of my life on the back of my Harley never having a home, just doing drugs and fighting," Gary recounts. His thrill seeking attitude and substance use disorder eventually lead him to a felony drug conviction and a five-year prison sentence.
On July 23, 2016, Gary's son Zaine was born, a defining moment for him. "With my other children I never got the opportunity to be a dad because I was too busy getting loaded," he said. Gary saw this as his opportunity to correct his wrongs and be the best father possible to his son. But first, he would have to face his inner demons to be the father figure he envisioned, as his son was taken into Child Protective Services (CPS) at birth.
Having found a greater purpose, Gary began his journey in recovery. Three months after Zaine's birth, he found himself in a crowded leasing office at the Rialto apartments, Pioneer Human Services' Tacoma housing program. Gary had heard of Pioneer through his counselor at Recovery Cafe who felt that the clean and sober housing program would be a great fit. Despite the large number of applicants, he was not discouraged. "Man, I knew that I needed to get in here to get custody of my son," he said. Gary checked in with the housing staff almost weekly regarding availability to make sure that he was not forgotten, and his persistence eventually paid-off.
Eleven months after moving into Pioneer's housing program, Gary and his son successfully reunified as a family through his hard work and with the help of his CPS caseworker and Pioneer. During Gary's time with Pioneer, he has had many accomplishments, but he said, "I am really proud of my sobriety and having the ability to provide a safe and stable place for my son." Now, that he has been reunified with his son, Gary's goal is to one day find a home with a private yard to be able to play games and sports with Zaine. The Tacoma housing program has a play yard with a swing set, but Gary feels that a home on flatter street will be a good fit when Zaine is old enough to start wanting to do things together with his dad - like riding a bike. And of course, Gary will carve out time in the day for father and son to watch a good football game together now and then.
Thursday, February 22, 2018