The Carnegie Resource Center in Everett Partners with Community Organizations to Save Lives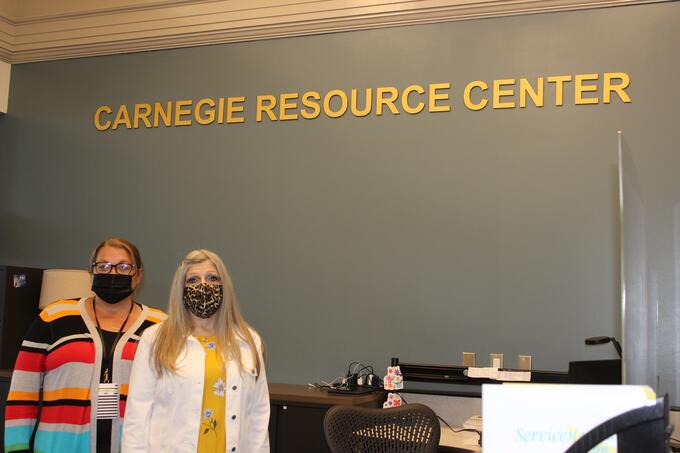 CARNEGIE RESOURCE CENTER
Our staff works closely with individuals that enter the Carnegie Resource Center in Everett. In association with partner organizations, the Carnegie Resource Center is a one-stop location that serves as a gateway to a multitude of resources and training opportunities related to mental health counseling and substance use disorder treatment, employment services, housing enrollment, veteran programs, health insurance navigation and public benefit enrollments. All services at the center are coordinated by Pioneer Human Services.
A few client stories were recently shared with us from Rebecca Nelson, Carnegie Resource Center director; and Julia Reardon, social services coordinator; that reflect the need in the community for the center's services, and the powerful impact that a little care and compassion can provide to an individual.
Pictured Left: Rebecca Nelson, Carnegie Resource Center director
Pictured Right: Julia Reardon, social services coordinator
-----------------------------------------------------------
MIKE
Mike entered the Carnegie Resource Center and broke down the minute staff asked what they could do for him. He was crying so hard he could barely speak. He was invited to sit down in a private room and given some water to help him relax. Julia Reardon, social services coordinator, worked to calm him down so they could just chat a little.
Mike shared that he was in active addiction and at the end of his rope. He said that he didn't want to use drugs anymore, but didn't know how he could stop using. Julia spent the morning with him just listening and letting him get it all out.
Julia Reardon stated, "We began to talk about different options and he came to the decision that he wanted to go to treatment but didn't know how to go about it. We called the Office of Neighborhoods (law enforcement with embedded social workers that assist in diverting individuals into treatment programs rather than arresting them) to connect him and they explained their program to Mike. He was very excited about learning of the program and started feeling a bit better." Mike decided he needed to take care of a few things before he started the program and shared he would be back.
A few months went by and staff had not heard anything from Mike until he showed back up at the center in tears again. Mike started putting himself down saying he should have just gone to treatment that first day he visited us at the center. Staff assured Mike that is was OK and that he had not lost his chance at recovery. Julia Reardon said, "We let Mike know we were just glad he came back and explained that we could call the Office of Neighborhoods again and they would still be willing to help him."
Mike explained that the thing that made him nervous was, "The Office of Neighborhoods was made up of cops!" Again, staff reassured him that they only there to HELP him – not arrest him. Staff told Mike more about the program and how it generally starts with getting a client into detox, and then into a residential treatment program. The Office of Neighborhoods team generally attends the treatment program graduation to support the client. The program also pays for housing for three to six months to ensure stable housing so an individual is not just going back to living on the streets. The officer and social worker usually drives the client straight to their new housing arrangement after graduation from a treatment program and will make sure the client has the main essentials needed including bedding, pillows, hygiene supplies, food, etc.
When Mike heard all the details about the program he told the Carnegie staff, "I am ready, let's call them." Carnegie staff called the Office of Neighborhoods and an embedded social worker came right over to talk with Mike. When Mike left with the social worker he was off to start his recovery journey.
Mike completed his treatment and moved into an Oxford house clean and sober living situation. He immediately started coming back to the Carnegie on regular basis to work with the employment navigators. He soon secured a full-time job, saved his money and bought a car. After about a year, he had saved enough money to move into his own apartment.
Julia said, "Mike has now been clean and sober for over two years and is doing great! He brings a huge smile to my face whenever I see him and think about how far he has come on his recovery journey. We are so proud that the Carnegie Resource Center was able to assist him on his journey to a successful life."
---------------------------------------------------------------
ELIZABETH
Rebecca Nelson, Carnegie Resource Center director shared, "Looking back over the past year, I have noticed that when most of the agencies in town are closed to the public, and many outlets for help require a steady internet connection that our clients don't have, people begin to slip through the cracks. Our team at the Carnegie Resource Center saw an opportunity to enable Elizabeth to get the support she needed, including achieving her financial goals, and we took it." Rebecca added, "The gratitude that Elizabeth has shown us for being willing to help her when no one else would or could, reminds my teammates and I why we do what we do. In a year of so much instability and loss, it felt good to really help someone. The small victories are what keeps us going!"
Elizabeth came in as she was having difficulty getting through to unemployment. She had been attempting to call unemployment for months but had no luck actually getting through because of the back-up due to the pandemic. Unemployment was recommending that individuals file online, however, she did not have access to a computer and the libraries weren't open.
Time to file was running out for Elizabeth as she had exhausted her savings and credit hoping to get through to unemployment and start a claim. At our first appointment she was frightened and feeling desparate, so we talked about immediate options that were available. We decided to help her set up a SAW account and work with her on setting up unemployment online. After, she immediately began receiving current benefits, that helped her stay afloat, while we worked on getting through to unemployment using her online benefits account to get her the back pay on her claim. After months of going back and forth, her back pay was released and she was able to feel more secure financially.
Elizabeth said, "I was unable to find anyone to help me before I came into the Carnegie Resource Center. Not only did they set me up to get a SecureAccess Washington account that allowed me to have Internet access to multiple online government services with the use of a unique single self-generated user-ID and password, they now assist me each week to file for my weekly unemployment benefits online as I do not own or have access to a computer. They also are helping me to connect with employment services to find stable work."
Rebecca Nelson added that, "Sometimes it is the small things that help a client stay on track and not spiral downward. We are here to assist people achieve a healthy and productive life and open to helping them navigate all the barriers they face."