Architect gives inmates a place of 'light and space' to transition to new lives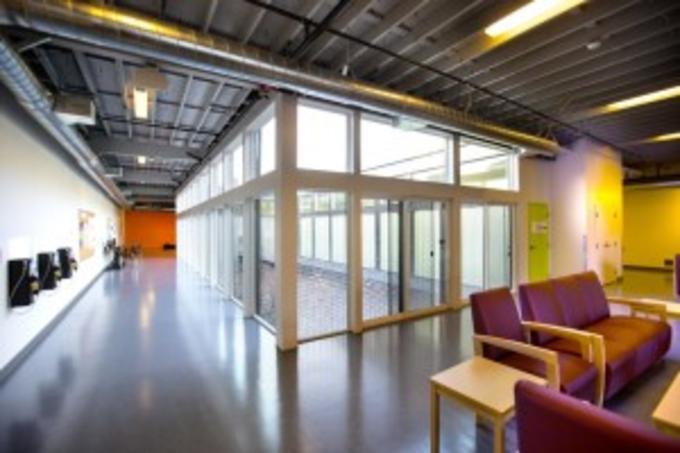 Pioneer's Tacoma Residential Reentry Center was recently featured in the Seattle Times! Read full story below:
By Jennifer Sullivan
Seattle Times staff reporter
TACOMA — Seattle architect Eric Cobb knelt on the pavement, dangerously close to the rumbling tractor-trailers and dump trucks rolling in and out of the Port of Tacoma. With his iPhone in hand, he shot video of a remodeled building that appears to be out of place amid the industrial bustle.
A sought-after regional architect with a flair for designing light-filled homes and businesses, Cobb is all smiles, sweeping hand gestures and philosophical prose as he discusses this unique project in the hub of Tacoma's industrial area.
E. Cobb Architects was hired by Seattle nonprofit Pioneer Human Services in the fall of 2014 to build a facility for former federal inmates transitioning back to the community. It would be Cobb's first foray in designing a corrections-related structure.
Though the timeline to design, permit and repurpose the shell of an existing building into the halfway house was tight — about 10 months — Cobb jumped at the chance.
For Cobb, transforming a vacant furniture factory into the Tacoma Residential Reentry Center (TRRC) was "an opportunity to really make a difference." To do that, he set out to create a facility with only a slight resemblance with other institutional structures, something that would speak to the new beginning the former inmates faced.
"It's a place where design can really have meaningful impact. That's an exciting challenge," Cobb said. "It's a very fragile moment in their lives."
Standing in the middle of the 75-bed facility on a recent day with Joe Miller, the center's director, Cobb explained that concepts like "light and space" were always on his mind through the design and building process.
"Let's give them [the residents] a sense of dignity," said Cobb, 53, whose excitement is underscored by the videos and photos he takes of the building. "There is nothing inherently fancy about our work. We can work with clients and add fancy materials, but at the absolute core is light and space."
The dormlike TRRC houses men and women nearing the end of their federal prison sentences and under the supervision of U.S. Probation and Pretrial Services. The center is run by Pioneer Human Services, which offers housing, job training, substance-abuse treatment and educational programs to those being released from jails and state and federal prisons.
Since opening last August, 12 offenders have been housed there before being released into the community, Miller said.
Residents who live at any of Pioneer's three federal prison transition facilities — the TRRC as well as one in Seattle and another in Spokane — are all expected to work either on or off-site during their stay.
In addition to simple rooms filled with plain, institutional-looking bunk beds and other furniture, the TRRC features classrooms, job-training room filled with computers, a small workout area and an enormous commercial kitchen that will eventually provide on-site job training for residents and community members interested in restaurant work. Miller said the kitchen is still undergoing permitting by the federal Bureau of Prisons, which oversees the facility, Miller added.
But beyond the beige vinyl furniture and waxed linoleum floors, the building is filled at times with blinding light. Windows dominate the building and the small bedrooms are awash in sunlight even on dark days. Sliding doors open to an atrium at the center of the building.
Cobb said he was required to block residents' access to the atrium because of security concerns. He used a metal grating, similar to one used as an exterior railing, to block the atrium. He said that the move was intentional, to both create cohesion and not make it seem like residents were surrounded by bars.
"The gesture to cut out the entire middle of the building, to absolutely flood the facility with light, is an enormous gift," Cobb said. "To make that gift for somebody who is in a transitional position in their lives can have a transitional effect."
Cobb said he also focused on color to make the building seem less institutional. The women's corridor is painted in neon green, a cheerful shade that is reflected off a wall of frosted windows on one side of the atrium.
Miller said that most of the residents are coming from federal prisons where "the only time they see the light of day is on the yard."
"This is just such a different feel. It's so unique compared to other facilities across the country," Miller added. "If you're going to begin the process of change you need to begin with every day. While they [the residents] are not home yet, we want them to begin the process here."
The American Institute of Architects (AIA) noted the need for creative building design to help inmates on their path to rehabilitation in a recent magazine article.
Deanna Van Buren, an Oakland, Calif., architect whose focus is creating therapeutic environments for restorative justice-related activities, has been looking into this concept.
"If folks inside these institutions are seen as human, and as having the capacity to change, we might stop being so committed to the punitive point of view," Van Buren told the AIA.
John Chandler, senior property manager for Pioneer Human Services, said that the nonprofit purchased the old factory for $780,000 in the fall of 2014. They contacted Cobb after hearing positive reviews from contractors.
Nanette Sorich, spokeswoman for Pioneer Human Services, said she did not have the exact figure for how much was spent to build the facility. She would only call it a "multimillion" dollar project.
While Chandler calls the TRRC a "pretty simple facility" to design, Cobb admits stressing over details. Though he said he pushed Pioneer Human Services to stretch every dollar for added windows and maximum ceiling height, he says he would be quick to jump into a similar project in the future.
"The physical cell is confining. It needs to be," Cobb said. "In moving from an experience of confining spaces while in prison, the building offers (former inmates) a broad range of experiences that are about opening, spaces connecting and connecting to the outdoors."
Read online story HERE.
Thursday, January 28, 2016