Advice from Stabilization Facility Client, "Don't Give Up!"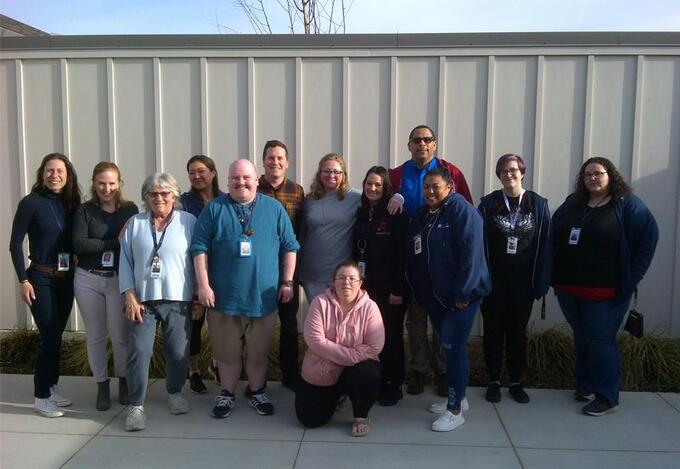 The Ituha Stabilization Facility staff in Oak Harbor on Whidbey Island shared a heartfelt letter from a recent client. Ituha provides a monitored and safe setting for individuals withdrawing from alcohol and drugs, and counseling for individuals experiencing a mental health crisis.
Pictured: Ituha team
-------------------------------------
Letter from Client
Don't Give Up! As I am taking these steps, I believe I can do this. I believe that no matter where life takes us it's always gonna be a challenge! Sometimes it's hard to let go of the stuff we go through, but if we just take one step at a time, we will be where we want to end up.
I worked in the fields when I was young until something horrible happened. Them my first real job was at a fast food restaurant. Little did I know that my life was going to change.
It started when I would get off work late and go for a beer – just one or two. But little by little, I started using drugs. For three years I put up with that, but this day 3-15-22, I made my choice to get clean – not just for myself, but for my son and me.
When I was on that stuff, I would fool myself everyday and think things were different, but oh no, it's something mental that one just can't explain. I sometimes just wanted to check out, listen to music all day and look at that rope over and over again…. but then I would think of my little boy. So I wanna say no matter what you are going through just know that it's gonna get better. Maybe five years from now we're gonna look at ourselves and say, "Wow, I really did that" or "Hey, I am really glad that I am clean now."
But what I'm really trying to say is, "Don't give up!" Your day will come. I wanna say THANK YOU to the Ituha Stabilization Facility for helping me go through this and for not letting me go through this alone. Thank you!"