Residential Treatment and Support Services Builds Back a Life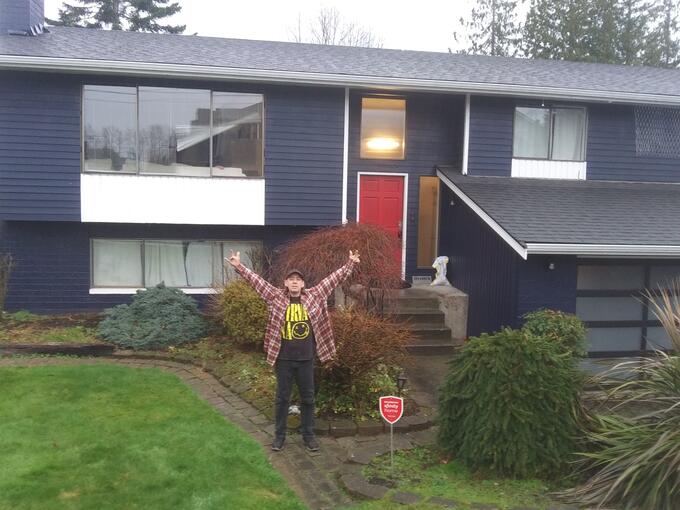 Recently, Shelly Jones, supportive housing specialist in our Foundational Community Supports (FCS) program, shared a story on Bill. He was a former client and is a current employee that came through our North Sound Behavioral Health Treatment Center (NSBHTC) in Everett. Bill arrived homeless at the center with a severe substance use disorder and health issues, and he eventually transitioned into stable housing with the hope of returning to the NSBHTC as an employee one day.
About FCS
Our FCS supportive housing services are designed for individuals experiencing barriers to housing stability with verified risk factors such as being homeless, experiencing unstable housing, facing barriers to independent living, or living with maximum independence in community-integrated housing. The FCS specialists also provide support in obtaining community services including, but not limited to: healthcare, social services, resources, employment training, and recovery education and support.
About NSBHTC
The NSBHTC provides a 16-bed opiate use disorder (OUD) treatment program, and a 16-bed co-occurring program (CORP) for individuals struggling with both a substance use disorder and mental health issues. A comprehensive range of services is geared to treat individuals in the OUD and CORP programs for mental health and substance use disorders.
Shelly Jones shared, "When Bill first came to treatment at NSBHTC, he had been homeless for a time and was struggling with excessive health issues related to his heart condition. Unfortunately, this caused him to be medically discharged from treatment until he could have his surgery. Bill needed to be medically stable enough to return to treatment."
Engaging in the CORP Program and Receiving FCS Support Services
Shelly added, "Once Bill had completed his surgery, he was determined to get help for his substance use disorder. He literally called and knocked on the NSBHTC door every single day until we were able to re-admit him for treatment. Due to Bill's chronic homelessness, I also immediately enrolled him in our supportive housing program and started working on housing goals for him."
After Bill was engaged in the CORP treatment program at NSBHTC, he decided that he would really benefit from a supportive recovery housing program when he was finished with the residential treatment program. "I provided him with multiple recovery housing options and Bill carefully explored each of these options to find the program that was the best fit for him," stated Shelly.
When Bill was successfully discharged from treatment at the NSBHTC he was set up to move right into a beautiful house on Lake Stevens. Shelly said, "Bill loves the house. I was able to organize the funding for his current rent through the generosity of the Snohomish County Sheriff's Office of Neighborhoods program. I have lined up additional funding available to him if/when it is needed."
Ongoing FCS Support Services
Shelly continued to provide ongoing support to Bill after he was living back in the community. Bill contacted Shelly to report that he continued to engage in telehealth intensive outpatient (IOP) treatment classes using the free cell phone that he received from the FCS supportive housing program. He has also continued to follow through with all medical appointments that were scheduled for him, including his cardiologist appointment to make sure that his health remains stable.
From Client to Staff Member
It was exciting news and made Shelly very proud to hear that Bill returned to NSBHTC on April 1, 2021 as a staff member so that he can give back. Shelly said, "Bill was an incredible source and support to other men in our facility while he was going through the treatment program. We are so happy and excited to see his return to NSBHTC as an employee!"
Marie Preftes Arenz, director of NSBHTC stated, "I was thrilled to suddenly see Bill on the other side of the RTS station from where he used to stand. He is now with us as a staff member and is impacting the lives of our clients in a new way. I am so proud of all that Bill has achieved since he came to us as a client, and being able to supervise him is totally the icing on the cake!"
Pictured: Bill in front of his home