Thanh, CNC Machinist - Pioneer Industries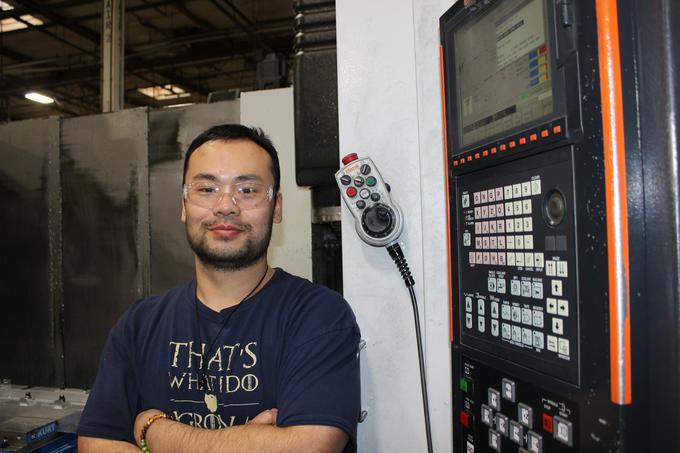 Navigating Many Barriers After Prison
"When I was released from prison my probation officer dropped me off at a homeless shelter in downtown Seattle. I was left alone to find a job and housing, and rebuild my life. I was dealing with a lot and the path out of my situation was not exactly easy to find." Thanh
Thanh grew up on the west coast in a family with two sisters and two brothers. When he was nine years old his father left the family, leaving his mother to raise five children alone. Things were tough at home and he tried to focus on school. Thanh was a pretty good student until he reached high school. "I was getting in trouble in my junior year as I started having a pattern of truancy. I just kept skipping out of school as my interest in classes disappeared. After a while I decided to drop out of school."
Eventually, Thanh did get his GED through Job Corp and he also worked in retail and security jobs. However, he made some bad decisions that led him to being arrested and incarcerated. When he was released he could only find temporary work with an agency doing retail or roofing work. None of the jobs were long-term, providing stability or showing any growth and he was growing desperate.
A few months later he learned about a job fair in Seattle being hosted by the Department of Corrections. Pioneer Human Services had a table at the job fair and was hiring for available positions in the manufacturing enterprise, Pioneer Industries, and offering training. The recruiter explained that Pioneer does not discriminate against applicants having a criminal record and encouraged Thanh to visit Pioneer Industries in south Seattle and apply for the position. He went in the next day and was hired on to start in an entry-level position.
As a new employee, he learned to deburr parts and worked in the saws division cutting extrusions. Unfortunately, he violated his probation and was sent back to jail but when he was released Pioneer hired him back. After several months, Thanh became interested in the parts being made by the machinists on the CNC mills. He approached a few of the CNC trainers and soon they took him on as a trainee. It took him about six months to really gain a solid skill set on the mills, but he worked hard and stuck with it. "When the work gets easier and you aren't scrapping parts you know you are getting good on the CNC mills. I was now setting up jobs, checking them, and tearing them down at a good pace and with very few scrapped parts."
Pioneer Industries tests, selects and sponsors skilled employees for the Aerospace Joint Apprenticeship Committee (AJAC) training programs. Thanh was accepted into the four-year CNC master machinist apprenticeship in 2014 and graduated as a journeyman in June 2018.
"The way I see it, Pioneer saved my life and made me a better person. I'm not sure what would have happened to me if I did not meet them at that job fair several years ago. Today I have a career – not just a job. Yeah, I worked hard for it but I am proud to become a journeyman with all the machinist skills on my resume. My path in life is now straight in front of me."