Sean, Machinist – Pioneer Industries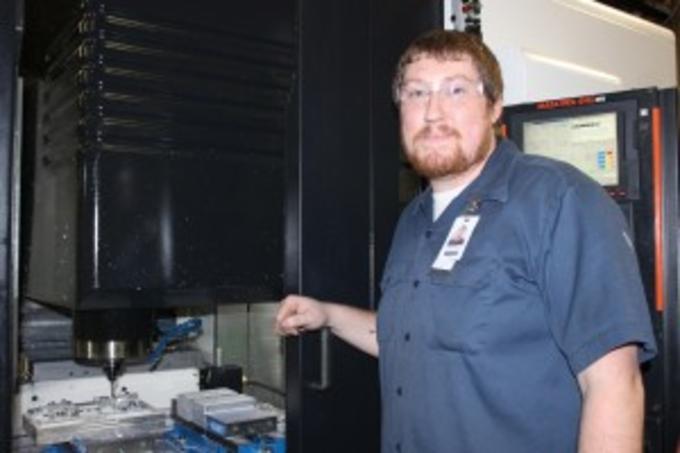 In June 2016, Sean became Pioneer's first apprentice to graduate in the four-year Aerospace Joint Apprenticeship Committee (AJAC) program to become a journeyman/master machinist. Bravo Sean!
Washington State funded the creation of a statewide, nonprofit 501(c)(3) aerospace and advanced manufacturing registered apprenticeship program in 2008. The apprenticeship combines supervised on-the-job training experience with college-level classroom instruction enabling:
Employees to earn a living wage while they learn on-the-job from a mentor and attend class one night a week at a local community or technical college
Employers to increase their workforce skills without disrupting production
Sean grew up in Ellensburg and ended up moving to Florida and going to a trade school for boat repair. He then worked in New Orleans in the boat trade repairing outboard, inboard and diesel engines. When there was a downturn in the economy in 2008, Sean was laid off and ended up moving back to Washington State and working in manufacturing. A friend eventually told him about Pioneer Industries (PI) aerospace manufacturing plants and he applied for a job. He had past experience working on a router and was able to transfer his skills to the aerospace industry needs.
After working at PI for about a year he applied for the apprenticeship program and was accepted by AJAC. He has excelled in class and on every CNC mill and machine on the shop floor. "I really like the work and found the apprenticeship program to be a perfect hands-on type of training program. You basically earn while you learn. It isn't an easy program, but since you are applying what you learn on the job, the information sinks in faster."
Sean is known as a great mentor on the shop floor. Many new Pioneer employees and apprentices have appreciated his ability to teach them how to master the machines on the floor. About 65 percent of Pioneer's manufacturing workforce has a criminal history or is in recovery. Sean feels that that the employees who were formerly incarcerated are just as skilled and driven as any other top employees he has worked with in other plants. He can't comprehend why other manufacturers would discriminate against people with a criminal record when hiring.
"Over the past five years, I've been mentored and taught by some amazing individuals here at Pioneer who were formerly incarcerated. If I were an employer, I'd hire any of them in a second. The work here can be so varied and we get the opportunity to set up and own jobs from the start to the finish at PI. We are not just a machine operator – we learn all aspects of production."
Sean looks forward to graduating from the AJAC program in June and using the skills he learned from the apprenticeship program to help more people on the shop floor succeed.