In-Jail Treatment and Therapy Prepares John for Life Back in the Community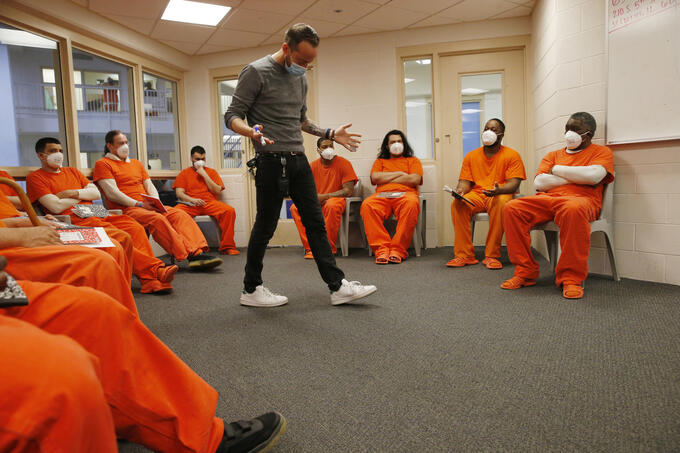 The King County Corrections-Based Substance Use Disorder (SUD) treatment program at the Norm Maleng Regional Justice Center (RJC) is operated by Pioneer Human Services and provides in-jail treatment to individuals incarcerated due to an SUD. John was a recent client in the program who struggled all his life with a lack of self-confidence. In his early twenties, his severe addiction to opiates and methamphetamine (meth) began. In order to support his business and substance use disorder, John began committing crimes.
John said, "I was putting myself in a big, deep hole." He eventually lost his business and was couch surfing at acquaintance's homes or living on the streets trying to support his drug use.
At 31, John began a succession of trying and failing treatment programs until he finally stopped the harder drugs and considered himself in recovery. However, he smoked marijuana daily and soon returned to using opiates and meth again.

John is now incarcerated at the RJC and made the decision to join the Modified Therapeutic Community (MTC) program that Pioneer operates. His Pioneer counselor, Mr. Sweaney, understands that John has difficulty saying, "No" to people and substances, and is working diligently with John on this matter.

John shared, "Mr. Sweaney lays it out really well so I can learn to say, 'No.' Pioneer Human Services gave me a new way of looking at life and thinking. I want the opportunity to get housing and continue with treatment. Pioneer staff treat all of us like family. They are very welcoming and care about our recovery."

Mr. Sweaney said, "As part of attending the program, participants attend Moral Reconation Therapy (MRT)) sessions weekly. MRT helps participants to build self-confidence and speak honestly about the effects of their behavior on themselves and others. Participants also attend a psycho-educational group each week. In the group, participants gain greater knowledge and insight about their substance use disorder and learn strategies to live substance free and equip themselves to live a clean and sober lifestyle." He added, "John continues to gain greater insights and skills in communications and he has the opportunity to practice this with his peers and primary counselor each week."
John has a plan that in five years, he will still be committed to his sobriety and recovery efforts. He also envisions living with family, instead of being in the Department of Corrections custody. We are proud of John's positive efforts and our staff's expertise in guiding him along his recovery journey.