From Incarceration to Artist, Business Owner and Mentor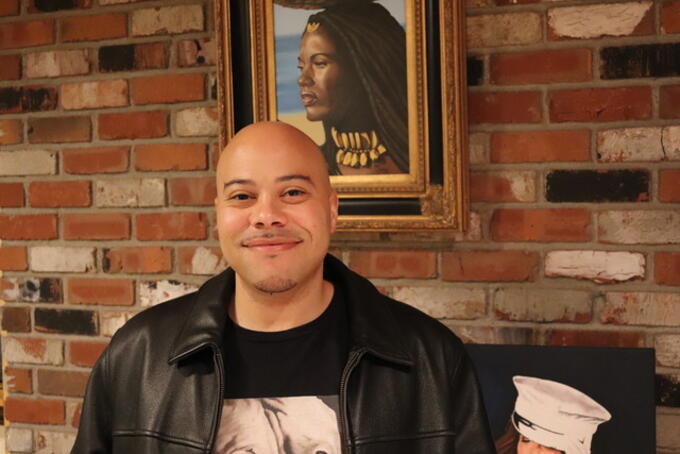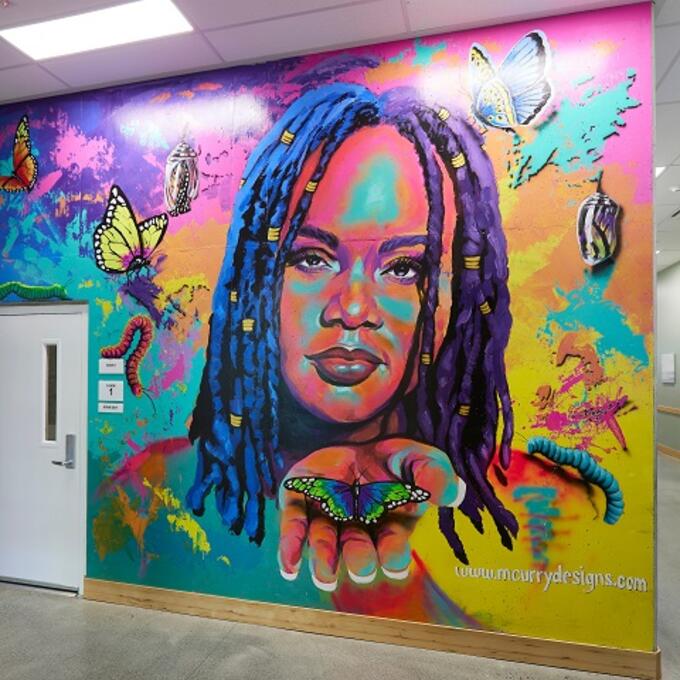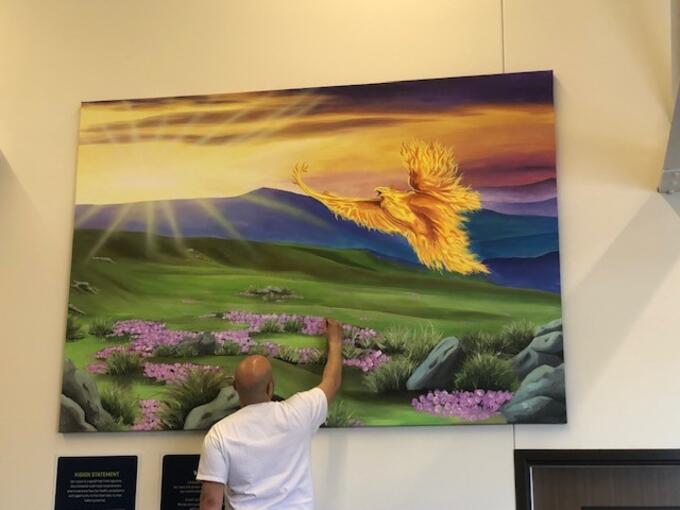 Myron was raised in Seattle by a loving family. He grew up poor – but rich in love.
Growing Up
As a little boy, Myron just figured everybody went to the food bank; but then one day on the bus Myron remembers his mom breaking down in tears and explaining why he couldn't have certain things. He remembers her telling him even simple things like toothpaste cost money and they were on a very tight budget. Myron's mom was working several jobs to make ends meet and their life in the community was about living with limited resources. This led Myron to understand economics at an early age. The financial disparity inspired his entrepreneurial spirit.
In his teens, Myron became an entrepreneur to earn money. However, his entrepreneurial skills soon were redirected towards a negative path - selling drugs because of the high profit margins. He realized he was a good business man and could earn lots of money, but the illegal business was harming the community he lived in. The business came with the baggage that Myron could harm someone else or get himself hurt.

Arrest and Incarceration
One day he was busted for intent to possess and distribute, and he ended up serving 12 ½ years in federal prison. During his incarceration, Myron did not incur one single infraction. He spent eight years incarcerated in Lompoc in California and then was shipped to Florida, Oregon and Arizona serving out the rest of the time. Myron was determined to get out of prison and build a solid life. He educated himself via college classes and took advantage of every educational and health/wellness class offered by the Bureau of Prisons while he was serving his time. Myron loved art as a kid and during his incarceration he rediscovered that passion once again.

Pioneer's Programs
He was released to the Pioneer Fellowship House, a residential reentry center in Seattle. Staff referred him to Pioneer's Roadmap to Success job-readiness training program where he engaged in resume writing, job search techniques, interview practice sessions and organizational skills for the workforce. In the program, Myron also learned communication skills - how to use language to help break down the barriers facing him and highlighting the positive skills of his past. Pioneer has generous donors that support the Roadmap to Success program and Myron received clothes and a bus pass to help him in his employment search.

One of the key issues for formerly incarcerated individuals is finding housing. Many people released, end up moving in with old friends and family that are not living in a safe, clean and sober environment. Others are so eager to be out on their own that they jump on an apartment deal without properly accounting for their budget - landing them in a negative situation. That choice can result in an individual being sent back to prison. Myron chose not to move in with his family because of his need for independence and lack of space, and other available apartments were too expensive for his budget. Myron requested and received an extension from Pioneer Fellowship House, so he had an affordable, supportive place to aid him for transition.

Pursuing Education in the Community
After he graduated from Roadmap to Success, Myron enrolled in school at Seattle Central College to study IT Network and Administration, as he knew every company today needs that expertise. He also was hired in a shipping and receiving position at Pioneer Industries. However, there were major conflicts in his work and school schedule, so he made the decision to leave the Pioneer job and landed a job at Seattle Central the very next day.

At school, he was volunteering in the Student Support Programs already, helping other formerly incarcerated students navigate the college system successfully. Soon, staff realized he was an asset to the program, and they hired him on as a peer-to-peer navigator specializing in reentry support. It is a perfect position for him as it is a work/study role. He is at school already and can assist others on their journey.

Myron has become a pillar in the community and a solid resource for individuals trying to find their path to success. He has maintained his entrepreneurial spirit, but now it is accompanied by an abundant education so he went after his passion as an artist and business owner.

Building His Career
Today, Myron is the proud owner of two successful and growing businesses on the side. He had always sketched and then later moved into painting with his work consisting of everything from dry brush, acrylic and oil painting portraits - to abstract art. He began a fine art / graphics and design company https://www.mcurrydesigns.com/ and hired a few other designers to work with him.

At Seattle Central College, Myron was selected to display his work at a show he called "Reflection" at the M. Rosetta Hunter Art Gallery. Primarily self-taught, his work captured memories of family and friends, hopes and ambitions, and artistic self-discovery honed throughout his time being incarcerated. He also was chosen to paint a mural for the Hill House in Seattle, a three-month revolving canvas for up and coming artists. Myron painted a mural celebrating life featuring a phoenix https://hillhousemural.com/ to express his rise after incarceration. He has also painted murals for Seattle Central and in contracted for one on the Midtown Square building on 23rd and Union in Seattle. Myron has also received multiple academic scholarships in support of his pursuit in his IT degree.

Another thriving business that Myron started with a partner is an eBay store. Currently, Myron has over 2,000 products for sale that he manages. His entrepreneurial spirit is still pumping and he's continuously developing new ventures as we speak.

Prison In-Reach Work
Through is work at Seattle Central College, Myron has done prison in-reach work and had a meeting with the Department of Corrections (DOC) on safety issues. He invited Clint Jordan, who was then the director of Pioneer Fellowship House, to join him. They participated in a meeting discussing the positive programs and cell phone access given to residents in federal residential reentry centers - in comparison to those in DOC work releases. Myron expressed his appreciation with a note to Clint:

Clinton,

I want to express my deepest appreciation and thanks for all your support. Your guidance and support will have an ever-lasting impact on my life. This is the very reason I absolutely love doing the things I do within my community. I know it matters.

One of my biggest challenges was forcing the judicial system to see me, the man, Myron Curry. I feel I was phenomenally successful at doing so. Whether or not I was granted early termination of supervised release was irrelevant in comparison. All the documentation and letters displaying my journey has been irrefutable. Thanks to you and many others, I was not standing alone.

I am so grateful to be a part of our community and family. I am enormously proud to announce I am no longer on supervision! My motion has been granted! I have to pay homage to you all who have set such an extraordinary example and organically groomed me to be the powerful, professional, hardworking man I am today. Thank you!

Sincerely Myron Curry

Continuing on His Path
Myron was able to secure an extra floor in a friend's home that provides a stable atmosphere and affordable rent, as he assists his mom and grandfather in many ways – including financially. He consistently refers individuals he meets, through his peer-to-peer navigator position at the college, to Pioneer's Roadmap to Success job-readiness training program to help them prepare for the workforce, get case management and the services needed. His mom and entire family are very proud of him. Myron has risen like the Phoenix in his mural and invites everyone to reach out to him at the Student Support Program at Seattle Central College https://seattlecentral.edu/campus-life/student-support-and-services/stud.... He also recently completed a mural for Pioneer (pictured) at our new permanent housing facility, Aspen Terrace, on Capitol Hill in Seattle.