Drug Diversion Court, Mental Health Therapy, Housing and Employment Create a Recipe for Success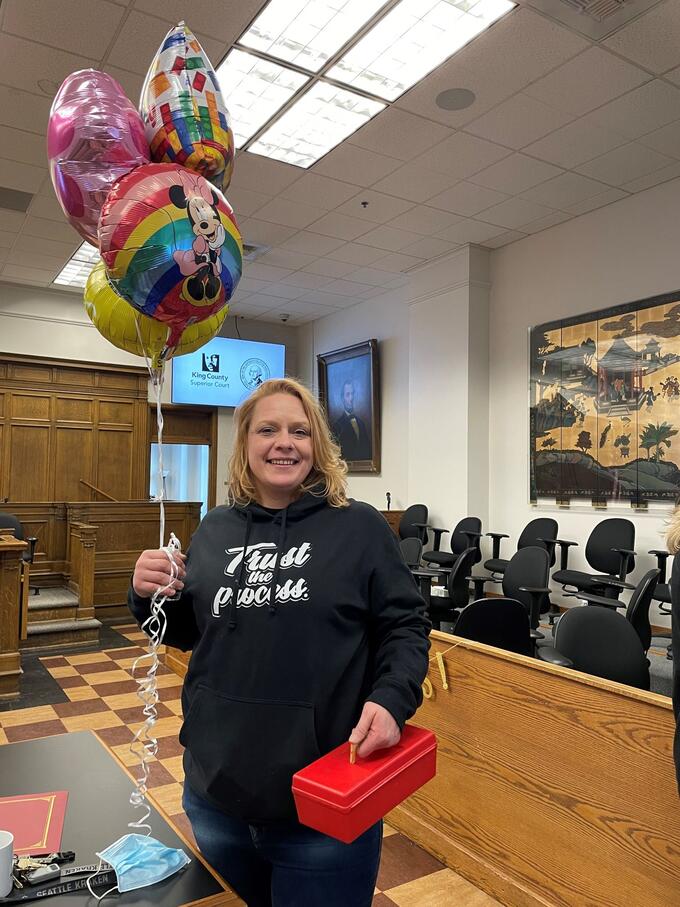 We congratulate Roxy for successfully graduating from residential treatment and the King County Adult Drug Diversion Court program. Our staff was proud to have the opportunity to work with her on her housing and treatment needs to provide a second chance.
"Pioneer is there to help you. My case manager, Jude, was persistent in pursuing an apartment that I could afford. He has gone above and beyond for me. And my experience in residential treatment at the North Sound Behavioral Health Treatment Center was enlightening. Marie helped me build coping skills and guided me in watching for things that triggered my emotions." Roxy
Roxy's Journey
"I want to share how grateful I am for getting a second chance in the Drug Court program, and for Pioneer Human Services' support in their residential treatment and housing programs. As I looked back on my first Drug Court journey, I had to ask myself, "What did I miss? Why am I back here?" The answer I learned was right in front of me – my mental health issues were never addressed.
Now, I understand myself better. I learned in therapy and treatment that I have PTSD and a lot of trauma that rises up and triggers my desire to use drugs. I needed coping skills. Unfortunately, it took 40+ years for someone to finally explain that to me."
Drug Court – the First Time
"In my first Drug Court experience, I engaged in the program and stayed clean and sober. The program promotes employment so I worked at Mod Pizza that offers a great management training program. I also lived in Pioneer's Dalton House that provides support services and housing for Drug Court participants. However, I did not seek mental health counseling as I had a bad experience with one agency's outpatient counselor and decided not to pursue it. I did not realize how much I needed it.
About two weeks before my Drug Court graduation, I witnessed a gruesome murder at work following a domestic dispute where a mother was stabbed and I was attacked when I tried to intervene. And, despite moving to the east coast to live with family because I had not been able to secure local housing after graduation, the murder scene haunted me playing over and over again in my head. I still stayed clean for a year and worked for my same employer opening a new location out east, but I eventually needed to come back to Seattle for the court case of the crime that I witnessed.
I went back to work at my former job in the Seattle Center location. However, not long after my return, COVID shut down the restaurant. Now, I was isolated at home with more time on my hands and my fragile mental state reared its ugly head. In the lock down of the pandemic, I resorted back to using drugs. It was obvious that I had never addressed the state of my mental health and the triggers that led me back to drugs. I also did not have the support network that I needed to stay on track."
Drug Court – the Second Time
It was a blessing to go to court again after my relapse. I was very grateful to be given another opportunity to come back to the Drug Court program and engage in mental health therapy as well as drug treatment. My Drug Court counselor, Nicquelle Jones, knew my history and explained I had more work to do – and I trusted her opinion. She referred me into a residential treatment program at the North Sound Behavioral Health Treatment Center (NSBHTC) that Pioneer operates in Everett."
Mental Health Therapy
"In the program at the NSBHTC, I received counseling for my mental health issues and treatment for my drug addiction. The program director, Marie Preftes-Arenz guided me and she was awesome! I never knew what mental health therapy was all about and why it was so important. Marie opened my eyes to past traumas and how I have tried to bury them. She also pointed out that I had PTSD and ADHD. I learned about how to build coping skills and how to watch for things that triggered my emotions. I gained knowledge on getting to the root of who I am, how I react and why.
In my life, I have faced many barriers and the NSBHTC program helped me to learn to navigate the barriers and stabilize my mental health. It was important for my sobriety to learn how to build new and healthy relationships, eliminate unhealthy relationships, and manage my grief over losing close friends and family. I learned the necessity of building a support network that keeps me accountable. Marie woke me up – she enlightened me!"
Drug Court Housing
"When I finished the residential treatment program, I begged the court to let me live back in the Dalton House that Pioneer operates. I had experienced support and resources when I lived there the first time from staff like Jennifer Defatte, the housing monitor, who I checked in with daily. She always listened and pushed me in the right direction. The Pioneer staff cared about me and I needed that team on my side again. The court kept offering other housing programs, but I really wanted the Dalton House and finally got it.
This second time at the Dalton House, I got a new case manager, Jude Ndungu. From the start, I told Jude that I did not want him as my case manager unless he was committed to helping me. I told him if he was a clock-in, clock-out employee he would be no use to me. I needed steady communication and guidance and Jude informed me he was fully onboard. He let me know he would do everything possible to help me and he has gone above and beyond!" See video of Roxy graduating at Drug Court HERE.
Independent Housing Assistance
"Before I graduated from the Drug Court program, I knew I needed housing when I was released from the program to bridge the gap so I wasn't released homeless. I wanted to secure independent housing before I had to move out of the Drug Court housing at the Dalton House. Jude jumped on this and worked closely with me to ensure next step housing before I graduated. He helped me secure a great apartment with Housing Connector that I can afford on my own.
Drug court paid for my first two months of rent and helped with my moving costs. I did not have to worry about releasing from the Drug Court program without a safe place to live. Keep in mind, I still have my friends that I met in the Dalton House. We remain close and formed our own support group to make sure we are there for each other."
Employment
"At work, I am now going through Mod Pizza's general manager training program to build up my career skills. I have learned to deal with my life issues in a healthy way and that has allowed me to grow personally and become more professional. I have also built some new and amazing relationships."
Mental Health Stability
"I learned that my mental health is a priority, so I continue to participate in mental health talk therapy to stay in front of my issues. And the kicker is that my ex- drug counselor from Drug Court started a group called, "Women Seeking Safety" and I engage in that program regularly to stay aware of my feelings and actions. I also engage in NA weekly meetings as I now realize that my mental health and drug use are connected. It is exciting to have a fresh new chance and I can't thank everyone involved in my journey enough!"
Pictured: Roxy at her Drug Court graduation