Training and Apprenticeship Pave a Path to Success After Incarceration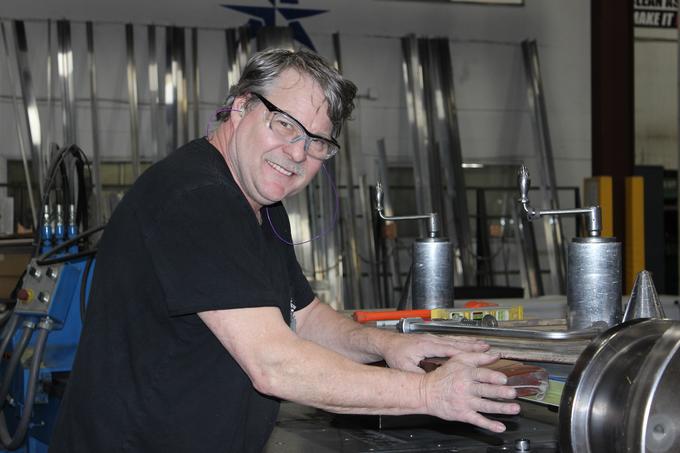 Harold graduated from our Roadmap to Success job-readiness program and Manufacturing Academy while he was participating in a drug court program. For over five years, he has worked at Pioneer Industries and he is one of our employees currently participating in the two-year sheet metal apprenticeship through the Aerospace Joint Apprenticeship Committee (AJAC). It was Harold's goal to get into the apprenticeship program to have the opportunity to increase his knowledge of manufacturing and the machinery, and broaden his skills in reading aerospace blueprints.
For 35 years, Harold struggled with addiction and his behavior to help support his habit led him down the path to incarceration several times. One of the last times he was arrested, he was sentenced to serve time in the Washington State Penitentiary in Walla Walla. He asked to get into a treatment or drug court program. The judge denied his request. After his release, he fell into substance abuse almost immediately.
"I started using and selling drugs again after my release from prison and fell right back into my old lifestyle. I didn't know how to shake my habit. Prison was a break from drugs but I could not stay clean on the outside. When I was arrested again, a different judge gave me an option of participating in a drug court program or spending the next eight years in prison. I grabbed at the chance to get into the drug court program," shared Harold.
While in the King County Drug Court program, Harold's counselor told him about Pioneer Human Services' job training programs and policy of hiring individuals with a conviction history. Harold was accepted into the Roadmap to Success program and learned many things including how to talk to employers about his conviction history, write a cover letter and resume, and practice positive affirmations in life to push himself forward. He then enrolled in the Manufacturing Academy and was hired on at Pioneer Industries deburring parts and learning how to operate the various machinery.
Harold said, "Pioneer's training programs gave me a boost of confidence and an entry back into the workforce. The drug court program gave me the structure and support services I needed to stay clean and sober in the community."
Harold works Monday through Friday 6:00am – 2:30pm on the manufacturing floor. Pioneer has one of the only stretch presses in the northwest and Harold is one of the employees that operates it bending and shaping large metal parts for the aerospace and other industries in the region. He also has worked on the saws, routers, hot joggle press (heats up the parts and applies pressure for forming) and he sets up the 3-axis CNC mill for operation on the plant floor.
"I have a different life now. I've worked on building my relationships back with my kids as that is important to me. During the day I work hard, and after work I am active in my NA support group where I was the group services representative, and now I am the treasurer getting involved in fundraisers and helping new groups start in the area. I realize it is important for me to surround myself with other people that are in recovery, and stay involved in the community. It feels good to give back to others who are struggling in their sobriety. I can speak from experience and lend a hand when someone wants it – I can be a better person," Harold stated.
In a year, Harold will be graduating from the AJAC apprenticeship. "I've got a life now that includes a job, a car, a legal driver's license, a roof over my head, support groups, friends and family. To anyone struggling out there because of a drug problem I would say grab the drug court option if it is offered to you – it was a life changer for me – or get into treatment. And to anyone who's been incarcerated, don't let that stand in your way to success. Contact Pioneer and learn more about all their services. They're here to give you another chance in life."
Wednesday, March 18, 2020