Regina Builds Her Life Back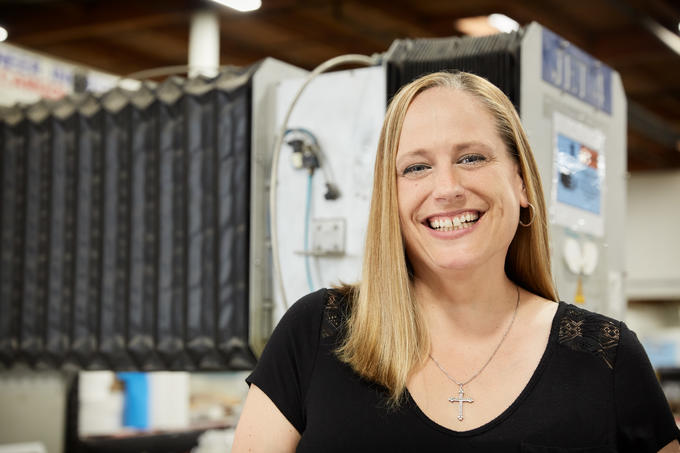 I was not an easy kid. Rules and curfews were made to be broken in my mind so I caused a lot of grief and worry for my mom and really butted heads with my stepdad. By the age of 13 years old, I was always running away from home and I dropped out of school in the eighth grade. When I was 15, I moved in with my 21 year old boyfriend and was drinking, smoking weed, hiding and on the run from my parents. That was a rough time and I still feel a lot of sadness for the trouble I put my mom through.
My independent and rebellious streak did not exactly lead me to any positive places in life. I was young and vulnerable, and realize now that I thought I knew it all, but I was actually making a lot of mistakes and bad decisions. When I reached 18 years old, I had friends in Tacoma that I visited and got acquainted with dealers selling crack on the Hilltop. I was swept up into the dealer life and was busted at 19 years old. I ended up serving 18 months in Pine Lodge Corrections Center for women. At least when I was serving the time I finally got my GED, but I needed to find work when I got out.
Pioneer Human Services first came into my life when I was serving the last of that sentence in one of their Seattle work release's at the time. Other residents told me that Pioneer didn't discriminate against people with a criminal record and provided training and jobs when they had openings. I applied for an entry level manufacturing job in one of the enterprise divisions, Pioneer Industries, and got hired. I was helped in the process by Ahnetta Fields, a Pioneer case manager who has really guided me in life throughout the years.
It was a life saver to get a job at Pioneer Industries and learn on the job. I was a Tech 1 in the aerospace cargo liners division and advanced into the Tech 2 position. Soon I was training others coming into Pioneer. Eventually, I was trained as a water jet operator and helped arrange for the move of the company's water jets that were being transferred from Plant 1 to Plant 2. My production and organizational skills were all tapped for this project.
Those four years at Pioneer Industries were a great experience for me in regards to my career and being surrounded by supportive people that didn't judge me. My problems started again when I got involved with an abusive guy and really went through a time of violence and fear in my life. Ahnetta and other Pioneer staff came to the rescue and helped me to separate from him, pack-up and move to another state to be safe and stay with my mom. I couldn't have made the safe escape without their help.
After living with my mom out of state, I returned back to Washington state and got hired by another aerospace manufacturer where I worked for about four years. Eventually, I got into a long-term relationship with a new man, changed jobs and managed shipping and packing stores in the area while working as a DJ at a club at night. Unfortunately, I was introduced to cocaine in the club scene and my addiction started. My habit was getting very expensive and soon my paycheck was being used up to pay for my drug habit. I worked and did drugs for many years and that time of my life is a blur.
I had never had any previous health issues, but at 32 years old I was diagnosed with cancer and had to have surgery. My boyfriend did not stick with me through this ordeal, but my mom came in to help and support me. After all I put her through she has always been there for me. Unfortunately, my drug habit was never dealt with so I continued to use. I found myself falling deep into a world of addiction and selling drugs to support my habit. I ended up getting sentenced again to another 18 months in state prison.
When I was in prison I started writing Ahnetta at Pioneer. I was trying to get clean and really felt I was done with drugs, and wanted to change my life. I had to get off drugs cold turkey in prison and I started going to a religious service inside. I found that praying and reaching for spiritual growth really helped me straighten my life out and prepared me for my release. Ahnetta supported me through this and told me that Pioneer is all about giving people a chance. She told me to call her when I got out.
I followed up with Ahnetta when I was again sent by the Department of Corrections to one of Pioneer's work releases to serve out the remainder of my sentence. Ahnetta helped me schedule an interview at Pioneer Industries for an opening they had and I was hired back to work in the aerospace cargo liner division at Pioneer Industries. After a few years, I was promoted to being a water jet operator again. When I needed housing, Pioneer provided an apartment in one of their permanent housing program's too. That was such a relief as now I had stable housing I could afford and was surrounded by other supportive people.
Many things have kept me moving forward on the straight and narrow path, but I attribute my success mostly to having a commitment to God, a commitment to myself that I deserve better, solid employment and a desire to get educated so I can give back in the field of substance abuse counseling. Currently, I am enrolled in college studying to get my Chemical Dependency Professional Trainee (CDPT) certification. My goal is to work in one of Pioneer's behavioral health programs when I am in my practicum, and then maybe focus on working with youth who are struggling with addiction after my internship.
Pioneer really saved my life by hiring me on again four years ago, supporting me through my trials, providing housing and paying for my college education. I have had to work and study real hard, but they had the right tools I needed to make my journey possible. Today, I have my family back in my life and a feeling of peace that I never had before. I feel good about myself and my choices now, and I'm grateful to Pioneer for giving me a chance to change.