Jacob Excels After Years in the Justice System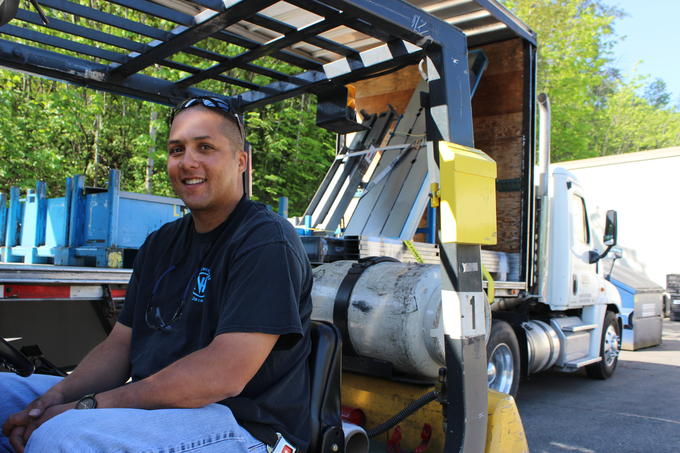 You make choices when you're young that can really affect the rest of your life – but you have no clue at the time. I came from a good family but my parents divorced when I was six and I became a latch key kid. I chose a tough crowd to hang-out with and at 12 years old I was already smoking weed and getting into trouble. As I got into my late teens, the drugs got more serious, as did my involvement in using and selling them.
I have been to prison four times in my life, but it was after the third time where I made my best and worst decisions. My third time out of prison I was sent to a work release that Pioneer was operating at the time. I was told about Pioneer's services and heard they would train and hire you, even if you had a criminal record. I got accepted into their three-week job training program that went over resume writing and basic skills for finding employment. It set me up to get ready for the workforce and was one of the first positive decisions I'd made in a while.
Job Hunting
Now it was time for me to hunt for a job so I started applying for open positions and one of them was for an entry-level cargo liners manufacturing position at Pioneer Industries. I was hired for the position and received training on the floor. That was a step in the right direction for me. It was great to be learning on the job and getting paid at the same time – I needed that! Soon, I was trained by an amazing employee in the shipping division of metal/vinyl parts and worked in that department. Everything was moving along great for me – but then I made the bad decision to go back to smoking weed. Pioneer is a drug-free employer and I got a random urine analysis (UA) and was fired as marijuana showed up. I was crushed and felt really devastated. Now I had to face the facts that I was responsible for my actions and termination.
Relapse and Drug Court
Unfortunately, instead of facing the issue, I spun out of control into drugs and fell back into a life I thought was behind me. When I was arrested the fourth time, I was deep into drug use and back to selling drugs. A few year prison sentence was staring me in the face. But, while I was waiting for my sentencing in the Federal Detention Center at SeaTac, a judge released me with credit for time served so that I could participate in King County Drug Court. That was a blessing and a life-saver so I grabbed at the chance to start in on the program that included multiple substance abuse counseling meetings each week and monthly court meetings. I got a job in shipping at another company and really worked at my sobriety for a year. When I completed the drug court program, I invited the judge and my probation officer to my graduation. It was a great experience to share with the judge how much I appreciated the chance to get clean and start building back my life instead of wasting away in a prison cell.
Succeeding Where He Left Off
Over the previous year, I had kept in touch with Pioneer and explained that I graduated from the drug court program. When there was an opening in the shipping department, Pioneer Industries gave me a second chance and hired me back on. I work hard and really dedicate myself to my career and my sobriety. My co-workers are very supportive – we're kind of like family. We spend a lot of time together at work so I feel really lucky to be working in an accepting atmosphere where I'm not being judged for my past mistakes.
Since 9-11-13 I've been clean and sober, and I feel grateful for where I am today. My support group is very central in my life and my work constantly challenges me. In April of 2018, Pioneer promoted me to shipping lead for aerospace and commercial parts and I give it all I've got to keep things running smoothly and on time. They also just sponsored me to get training for my commercial driver's license (CDL). O I passed and can now drive our fleet of box trucks and semi-truck. Pioneer believed in me so every day I am showing them they made the right choice.