Choosing a Path AWAY from Prison.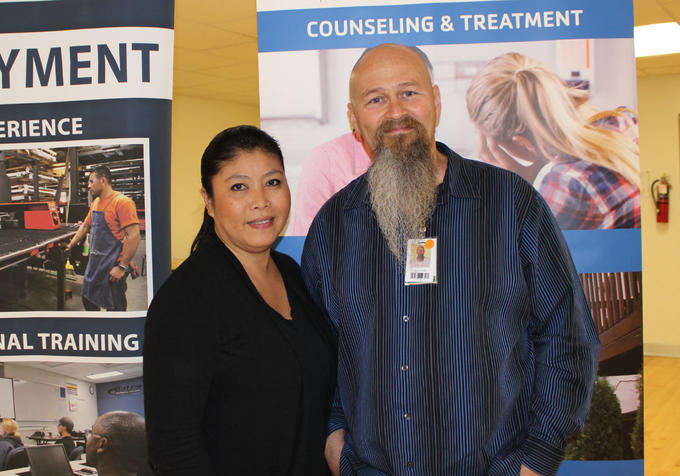 I got started a little late in life, I was 51 years old. When I was young and growing up I didn't exactly have great role models. In my house it was considered OK to smoke cigarettes, drink, use drugs and commit crime; in fact, my parents had been in and out of jail more times than anyone I'd ever met.
I failed 7th and 8th grade – the last two years of school I attended. Starting at 11 years old, I was arrested several times and finally ended up being arrested by the Federal Government, in 1993. I was sentenced to so much time I had to write it down – it basically added up to beyond life without the possibility of parole and a $2.25 million dollar fine. I thought I was never getting out of prison.
When I was incarcerated, I had to make some major adjustments to my way of thinking as I was no longer a free man. In USP Lompoc the population is 1,200 men and the majority of them are never getting out of prison. I learned more about life in prison then I ever wanted to know.
During my time in prison I made the most of it though. I got my GED, I studied law and I attended as many educational classes that were allowed for my custody level and I worked as much as I could. My custody level was so high I was not allowed to take certain classes or hold specific jobs available to lower security prisoners. Eventually, I won an appeal that I was fighting for and my prison sentence was reduced from life - to a sentence of 26 years and eight months.
While in prison I worked in their industries division and learned every machine and process I possibly could. As a result, I was given a chance in the production office. There I learned all about typewriters, copy machines, printers and several different types of software. It wasn't long until I was the "go-to" person for everything. Later, I was given the CAD operator job and taught myself how to use it.
Getting closer to being released from prison I started formulating plans on what I wanted to do when I got out. I wanted to find the best paying job and make a life for myself – and it was clear that I NEVER wanted to see the inside of a prison cell again.
When I was released to the Pioneer Fellowship Residential Reentry Center in Seattle there was a lot I had to learn about life after spending over 22 years in prison. When you get out of Federal prison you get $5 dollars for bus and train fair. I needed to figure things out fast. I began putting my life back together in record time. I signed up for medical insurance, got a social security card and cell phone without any one asking me to do it. Of course, I had to have staff at the halfway house help me get an ID. I tried on my own but I needed assistance and I could hear the people whisper, "He hasn't had an ID since 1993." Also, I got help to learn how to actually use a cell phone, all the apps on the phone and the internet as that was needed for finding work.
I applied for work at several places and was shot down as soon as they found out I had a criminal record. I was trying to find a job related to production, something in an office or a lower level job just to get my foot in the door. At one employer's, I had four interviews and when they found out I was still in the halfway house I was suddenly overqualified. But I didn't give up! I changed my plan again and told people from the beginning that I had a criminal history and if this was a problem we didn't need to talk anymore.
Finally, I was hired at Pioneer Industries for inventory work as they believe in giving people a second chance. Since working at Pioneer, not only have I been tasked with inventory control, I have also become the forklift instructor and backup truck driver. Later, I volunteered to learn and train Pioneer employees on the new ERP software system called Epicor. Working as a team on this new software system I gotta say we killed it and were very successful implementing the new system. Our team had some hurdles, but we have grown together and will probably continue to learn more for a very long time.
While I was still in the halfway house I met the most amazing person I've ever had the pleasure to know. Initially her father, brother and son did not like me at all. Comparisons to Duck Dynasty and Walter White were tossed around. They all love me now. She asked me to marry her and we married in February 2016, less than a year from when we met.
A solid paycheck led me to take a class for first time home buyers and my wife and I began looking for a house. We finally found a three-bedroom home that we loved with a fenced yard and a hot tub and won the bid – now that is living!
People ask me how I'm doing at work and I respond, SPECTACULAR! I am known for taking on most tasks at work, big or small. I also try to give back and fix peoples' cars, and offer to help with just about anything for free. I was asked by my boss, "What is it, why are you so happy all the time? Nothing gets you down!" My answer was, "I just did over 22 years in prison, and now I am loving life."
Since I've been out of prison my wife and I have sky dived, we got certified as scuba divers, went snow skiing several times and swimming in as many as five different bodies of water in a day. I even dove in several waterfalls and off cliffs, and swam with the dolphins and turtles in Hawaii!
My best advice to someone transitioning out of prison is to make a plan to move forward in life and don't let the obstacles stop you. Ask lots of questions and don't be afraid to ask people for help along the way. Nothing that you want is a free ride so roll up your sleeves and get ready to prove yourself and work for what you want!